Teresa Lubbers became Indiana commissioner for higher education on July 7 after serving 17 years as a Republican state
senator from Indianapolis. She replaced Stan Jones, also a former legislator, who led the commission from 1995 until this
spring, when he joined a new not-for-profit startup backed by the Gates Foundation and focused on improving college completion
rates.
Lubbers got a running start on her new job, having served as chairwoman of the senate education committee
for years. She also worked frequently at the commission's downtown offices during May and June—after Jones had
left but before the Legislature returned for a special session to pass a budget. Her new staff dubbed her SenComm.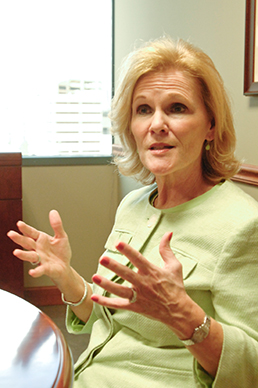 Former State Sen. Teresa Lubbers says every Hoosier needs some college-level training. (IBJ Photo/Robin Jerstad)
Lubbers spoke with IBJ about her new job and the role she sees for higher education in Indiana's
economic future.

IBJ: Why did you want this job?
LUBBERS: I really wasn't looking for this job. I just went through an election
last year. So I wasn't thinking about this as even being an opening. Having said that, the only
job in state government that I ever really considered was this job. A lot of people see me as a K-12
person because I've spent a lot of time on K-12. But I was the head of the Midwest Higher Education
Commission recently, spent a lot of time working on the relationship between K-12, higher ed and work force. And
this [job] is kind of the linchpin with those.
When I had a few people on the commission and some others
come to talk to me about this, my initial response was still dragging my feet a bit. I didn't say no, but I didn't
say yes. I lived with the idea for a while, which I think is a better way to make a decision. And it got to feel better and
better to me. The stars are kind of aligned between everything from K-12 to higher ed to work force now, with people in place,
some shared vision, some sense of urgency about really getting some things done.
IBJ:
Economic-development researchers say the best predictor of future prosperity is the percentage of people who have bachelor's
degrees.
LUBBERS: We're not doing too well in that regard, are we?
IBJ:
Economic-development researchers say the best predictor of future prosperity is the percentage of people
who have bachelor's degrees. We have about one out of four adults in Indiana with bachelor's degrees.
That doesn't stack up well with other states. Do you think the higher education institutions around the state right
now are equipped to move that number in a big way?
LUBBERS: Yes. The days of colleges and
universities just operating as centers of learning totally disconnected from what the work force needs to be are pretty much
gone. They understand their very pivotal role in economic development. And it isn't as if everybody needs a four-year
degree. Everybody needs postsecondary experience and training. And a two-year degree, an associate's
degree in many of our areas, is critically important. But if you don't have
something, you're going to be hard pressed to make it in what is a quickly
changing economy. 
IBJ: What is the biggest thing—at
the schools themselves or at a policy level—that needs to change to get higher educational attainment among Hoosiers?
LUBBERS: The biggest thing that needs to change is the completion rates. We've
done a really good job, believe it or not, in Indiana—some people don't know this—increasing
the number of people who are going on after they graduate from high school. When I was elected to the
Senate in 1992, we were 34th in the nation in terms of our college-going population. We're now
10th. But they're not graduating. They're dropping out for basically one of two reasons:
It's affordability and preparation. So we have to do a better job at both of those so our completion
rates are going up. That's true in many states. But it's especially important here where you're
changing the economy so quickly.
IBJ: What role can businesses, individually
and collectively, play in improving higher education in Indiana?
LUBBERS: There are multiple
ones. It's everything from being involved as leaders in individual colleges and universities to encouraging
employees through whatever kinds of financial incentives you can provide to go back to school and keep their skills current.
[And] at a macro level, [it's] how they're involved in changing the economy of this state. If you want people
to stay in this state, there have to be the kinds of high-paying, quality, 21st century jobs that will make people say, 'I
want to stay in Indiana.' Or else they'll graduate from these places and they'll be picking up and moving
their families some place else. So the creation of those kinds of jobs will be critical.
IBJ:
Tuition is rising. Yet because of a tight state budget and a surge in enrollment, the state's student assistance fund
has had to reduce the size of its grants to each student. What is the state doing to ensure college is affordable for students?
LUBBERS: We're asking more and more people to go back to school, and costs
associated with it are taking more families' per-capita income. It's a sobering reality,
but it is the reality, that it's costing more. So we're just encouraging [colleges and universities]
to do the best they can to have those increases be as modest as possible. Our [recommended increases]
were 0 to 5 percent. Some have come in a little above that.
IBJ: When did
you first get interested in education and education policy?
LUBBERS: I thought
for a long time I would be a teacher. And I did teach high school for a very short while. I ran for the
Legislature on really two issues: economic development and education. When I ran, my daughters were five
and seven. So I was very engaged from a personal level in education and developed a belief that we needed to do better and
we could.
IBJ: Now 17 years later, do you still say that's true:
We need to do better and we could? Has Indiana made any strides in that time?

LUBBERS:
The one thing that we've done is finally convinced people of the need for an education. That wasn't
true 20 years ago.
When I grew up on the east side, most of the people who I went to school with had parents who worked
at Chrysler, at Western Electric, at one of those big plants on Shadeland Avenue. They had good benefits, very middle class
families and lifestyles and none of those jobs are there.
And so to believe that their kids had to have
[a college degree], you know, it's taken awhile. Getting the whole state to buy into that has been very tough. And it's
really come out of crisis more than anything else. People haven't been able to get jobs. And now with the downturn in
the economy you have all kinds of people going back to school. •
Please enable JavaScript to view this content.