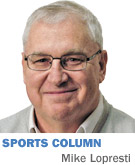 If nothing else comes from the aftermath of the Colts' belly-flop of a season, we've at least learned Chuck Pagano's philosophy on his water bottle.

"It's always half full," he said the other day during his post-season soliloquy. The mantra must work; he still has a job. Of course, Custer had that viewpoint, too.

Still, maybe it would be good to follow Pagano's lead and look harder for the bright side. So here it is, the optimist's guide to the Indianapolis Colts, 2017.

Yes, they are spending January watching the playoffs again from the cheap seats. But …

Given the extra time off, they should arrive at mini camp with improved golf handicaps.

Yes, they're a little conspicuous by their absence from the post-season. But ...

Not as conspicuous as the Denver Broncos and Carolina Panthers, who played in the Super Bowl 11 months ago.

Yes, some of the comments from the podium have seemed a tad on the head-scratching side. Not to mention the deafening silence for days from owner Jim Irsay. But ...

There was one moment of perfect clarity in communication this season. That was the word Bob Lamey let slip on the air after the San Diego game.

Yes, the Colts have gone a pedestrian 8-8 at Lucas Oil Stadium the past two years, a number that screams mediocrity. But ...

The Cleveland Browns and San Francisco 49ers are on the home schedule next season. That ought to help, right?

Yes, the Houston Texans have turned into the princes of darkness. Once 23-4 all-time against them, the Colts have now lost three in a row. But ...

They still own the Tennessee Titans.

Yes, despite best intentions and fondest hopes, the Colts have been a middle-of-the-road .500 team by nearly every measure. But ...

So have the Pacers. Seems to be the general motif at the moment. No word on how Larry Bird looks at his water bottle. And let's don't even get started on IU basketball.

No, the Colts seem nowhere near catching the teams they need to target to win the Super Bowl. The combined record of the seven opponents they beat this season was 43-69. They went 1-6 against teams who made the playoffs. But ...

No need for the city to worry about paying for one of those expensive victory parades anytime soon.

No, Andrew Luck has not delivered a Super Bowl in his first five seasons. But ...

Need it be mentioned again that it took Peyton Manning six years to win a playoff game? That in his first three post-season starts, the Colts lost by a combined 83-33, and he threw one touchdown pass? And now the state is full of Peytons reaching puberty. Still too early to guess how many Indiana kids Luck will have named after him.

Yes, it's true that the Colts gave up 6,126 yards on defense, the most they have allowed since the moving vans arrived from Baltimore in 1984. And, yes, they were 30th in the league in total defense. And, yes, the only teams lower, the Browns and 49ers, went 3-29. But ...

Unlike 2015, the Colts held Jacksonville under 51.

Yes, the Colts and Eagles (who own Minnesota's spot) will have to flip to see who drafts first at No. 14. But ...

Their chances are 50-50, which are a lot better than they were against Kansas City or Pittsburgh.

Yes, it's true that 18 of 32 NFL teams were in the playoffs either this January or last, which leaves the Colts as one of 14 noses pressed to the outside window. But ...

If you're frustrated and growing tired of missing out and want perspective, call a Browns fan.

Yes, they allowed 44 sacks, fifth most in the NFL. Apparently, that's a reliable harbinger of Sunday trouble, since the only four teams who had more—the Bills, 49ers, Rams and Browns—finished a combined 14-50. But ...

At least Luck spent less time in the company of an MRI machine. Backup Scott Tolzien threw 37 passes this season, which were 289 fewer than Matt Hasselbeck, Charlie Whitehurst, Josh Freeman and Ryan Lindley the season before.

Yes, early in the season the offensive line still had more malfunctions than Mariah Carey on New Year's Eve, so there is much progress yet to be made. But ...

"Much progress yet to be made" is certainly an upgrade from "lousy."

Yes, Adam Vinatieri just turned 44—missing only his sixth playoffs in 21 seasons, by the way—and nobody kicks field goals forever, not even him. But ...

Could be worse. If he were a beagle, he'd be 308.

Yes, it's probably telling that the longest winning streak this season stopped at two. But ...

If you count the bye, the Colts had a non-losing streak of three weeks.

Yes, many of you long for the day you can proudly wear the apparel of a franchise that goes back to the playoffs season after season, stands for excellence, and knows how to fill in the blanks around its prized quarterback. But ...

Would you really look good in a New England Patriots sweatshirt?•

__________

Lopresti is a lifelong resident of Richmond and a graduate of Ball State University. He was a columnist for USA Today and Gannett newspapers for 31 years; he covered 34 Final Fours, 30 Super Bowls, 32 World Series and 16 Olympics. His column appears weekly. He can be reached at mlopresti@ibj.com.