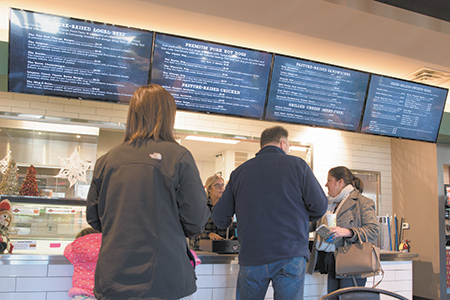 The folks in Greenfield know what to expect from The Mug—the beloved revamp of the former Frosty Mug drive-in eatery that added a farm-to-table rule book to its drive-up burger-joint esthetic.
The uninitiated, though, might be a little confused by the new urban outpost for The Mug (118 S. Audubon Road, 317-820-3662).
Here, just off the main drag in Irvington, the Mug's mug—its exterior look complete with patio frontage—is decidedly less "American Graffiti" and more strip-center handsome. But the culinary approach and refreshingly homespun service remain consistent. The smiling pig logo still presides over upgraded state fair food that invites less guilt because the ingredients didn't travel far.
Here, you order at the counter and the food is brought to your table. But be patient. This isn't fast food and it's worth the wait.
The Jalapeno Cream Cheese Bacon Burger ($8.75) sounds like a mouthful—and it is. But while the fried poppers made the first bite a bit awkward, they had enough give to spread cheesy goodness on subsequent mouthfuls. Most important, the poppers and the bacon didn't get in the way of the burger itself, which rose far above many $10-plus versions elsewhere (a basic burger here is $6). And maybe it's my imagination, but for once the fact that the beef comes from (formerly) free-roaming cattle dining on pasture grass and free of antibiotics seemed to add to the flavor.
Similarly, the pork in the Pork Fries ($5.50) comes antibiotic-free from Tyner Pond Farm and the flavors and freshness come through. Miraculously, the mound offered here didn't turn the fries to mush, as is often the case. Instead, the crisp-but-not-hardened spud exteriors held their weight even when softened by a perhaps oversized helping of coleslaw.
While the Cuban Sandwich ($9) lacked the traditional zesty flavor, it was a delicious Midwestern variation on the theme with shredded pork, ham and bacon on house-baked bread with Swiss cheese, pickles, mayo and stone-ground mustard.
Skip the standard sodas and, instead, go for The Root Beer Float ($3.25-$5), a near-ideal balance of creamy ice cream and the zip of Sprecher Root Beer—even if it didn't taste quite the same here as it does at The Mug's folksy original location.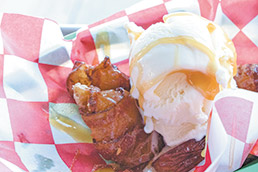 Bacon-wrapped apples are drizzled in maple syrup and topped with ice cream.
On the other hand, the Bacon Wrapped Apples ($5) seemed an upgrade from the ones at the original spot. Perhaps I just caught a bad batch there, but in my review of that location, I wrote that the dessert "didn't offer the pleasure that should come from eating something this bad for me." Well, here, the apple wedges—encased in crisp bacon, drizzled with maple syrup and sided with ice cream—were worth every sweet/savory bite.
Hungry for more and want to try to re-create a Mug favorite at home? You can grab some of the ingredients at Tyner Pond Market right next door.•
Please enable JavaScript to view this content.