Jim Schellinger's horizons are about to get much broader.
The president of the Indiana Economic Development Corp. will be stepping up into a new role: Indiana secretary of commerce.
In the 18 months since outgoing Gov. Mike Pence appointed him president of IEDC, Schellinger has focused on economic development within all corners of Indiana—traveling to other states or outside the country only as needed. According to a big map on his office wall, Schellinger made it to all but a handful of the state's 92 counties. (He kept track with checkmarks.)
But as secretary of commerce, Schellinger's job will be to sell Indiana to prospects around the globe.
He'll be traveling the world to meet with companies who do business in—or might want to do business in—the Hoosier state.
And it's a job he said might become easier with Pence serving as vice president.
Schellinger replaces Victor Smith, who resigned after four years as commerce secretary and is now a partner at Indianapolis law firm Bose McKinney & Evans and principal at its sister firm, Bose Public Affairs Group.
Elaine Bedel, CEO and owner of Bedel Financial Consulting, will take over as president of the IEDC.
Schellinger sat down with IBJ to talk about his vision for economic development and what he'd like to accomplish in his new job. Following are excerpts from that conversation.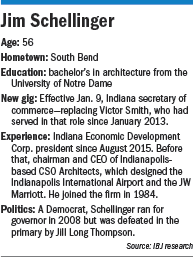 On how Mike Pence's becoming vice president will affect economic development in Indiana:
We think it's going to have an incredible positive impact. We've already seen that.
I think that we're probably a little biased because he's one of our hometown heroes, but I think he's going to be probably one of the most influential vice presidents we've ever had in our country. I've seen a few of those in my time, and I think he's so far just been incredible. ….
I think just our reception alone from across the country and overseas is going to be better. We have a vice president of the United States.
On what countries Schellinger believes are most important to visit on trade missions:
Our three biggest trade partners in no particular order are Japan, the UK and Germany. Those are the three that we'll continue to concentrate on.
Then you also have to consider China and France and then also Italy. [Holcomb] made it clear he'd like to make a trip to India. We'll be going on probably close to 12 in the next year. A couple of those are repeats, twice to Japan. They're just a huge trading partner of ours, so we appreciate them so much. They have 260 businesses here and they employ over 55,000 people.
On why traveling abroad on trade missions is important:
As much as anything, to tell your trade partners you think enough of them that you'll come 9,000 miles to visit with them and pay them respect.
Inevitably, business things come out of that, but the relationships are what we build on in all these places we go. We focus on the relationship.
When we got back from the United Kingdom just recently, we were told by several people over there that we are by far their number-one trading partner and they said that their relationship with the U.S. is extremely important and with Indiana specifically because you've got Rolls-Royce, ArcelorMittal, you got Tate & Lyle. They're all here and so those are huge companies making lots of investments here.
On the wages associated with the 227 economic development commitments IEDC secured in 2016:
[In 2016], our average wage was $25.43 [per hour], so it's up from $24.87 [in 2015] to $25.43. We're 20 percent above the average wage within Indiana.
On a new state program, announced by Pence in July, that would spend $1 billion over 10 years to boost innovation and entrepreneurship:
We want to start in the schools. We know that the innovators and entrepreneurs of the future are out there right now. The next John Thompson's out there somewhere. We got to find him. We know that the next Bill Cook's out there. The next Madam C.J. Walker, the next Scott Dorsey, the next Eli Lilly. They're out there. They're here in Indiana and we need to get back to that golden age of being innovators and entrepreneurs.
We want to put a stake in the ground that says that we are a state that appreciates and invests in innovation entrepreneurship. We know it's going to attract a lot of people to our state, a lot of investments to our state. It's going to create an ecosystem of innovation entrepreneurship, which ends up driving wages up, retaining and attracting people, growing businesses within the communities.
The second area we're going to invest in is the higher education research institutes.
Then we want to invest in communities. We want to create this culture of innovation entrepreneurship in all our communities around our state.
Then we want to invest in our startup businesses, our midterm businesses, our high-growth businesses.
Then we want to go to small businesses and help disadvantaged businesses.
It's a wide-reaching program that I think is just going to be great.
On the importance of education in strengthening Indiana's economy:
We also have to partner with the Department of Education, with our Department of Higher Education, with the Department of Workforce Development.
[It's] their lane to train and create our workforce, but we have to help them whenever we can. …
We need to focus on vocational technical education and Ivy Tech [Community College]. We need to partner with them because that's where our biggest skills gap is—those jobs that need more than a high school degree, but not quite a four-year college degree.
On how Schellinger's previous career in architecture, most recently as chairman and CEO of Indianapolis-based CSO Architects, influences his current thinking:
It's not the Statehouse that creates jobs; it's the companies. All we do is try to create a good environment for them to create jobs. That's the same way I learned it at CSO.
It's about the people that come to us and they come to us with a JW Marriott or they come to us with the new Indianapolis Airport. [CSO was the architect on both projects.] We have to say, "What do we need to do for you that's going to help you be successful and contribute to your success?"
I also learned that you've got to adhere to your values and we have certain values as Hoosiers. You also have to have a vision for the future, that's in addition to the core ideology. You got to know: Where do you want to be in five years? …
The other thing I've learned at CSO that I'll bring to this position is, it takes a team of people. It's not any one person. It's every entity in state government. It's everybody over at the General Assembly.
With architecture, you go to school and they teach you as an architect, you're it, you're the center of the universe. You have to come up with your vision, to stick behind it. It's your vision so you basically have to buy into that.
Then you get sent out into the real world and you find out you're the leader of a huge, diverse team that has engineers, civil engineers, structural engineers, mechanical engineers, electrical engineers, fire protection people, code people, all these different [Americans With Disabilities Act] people, and you have to lead that effort of diverse people to come together and bring together this very complex building.•
Please enable JavaScript to view this content.