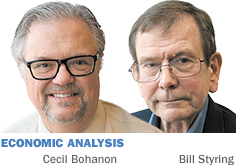 The Legislature is back in town (shudder). Long-term road financing and pre-K education expansion are top concerns for the "must pass" two-year budget. Legislators will also likely consider bills dealing with legal vices such as alcohol, cigarettes and nicotine-laced electronic cigarettes.
Both skeptical citizens and political connoisseurs ought to pay more attention to these "clean living" bills. Beware of unlikely bedfellows.
Lots of well-intentioned folks think we should legally prohibit or restrict access to now-legal but sinful things like booze and nicotine. Any action that limits access to a legal product raises prices consumers pay. Black and gray markets usually follow. Often, an unintended alliance forms between reformers and those who make a living from the ensuing underground markets. Retired Clemson B-School dean Bruce Yandell aptly tabbed these couplings the "Baptists and the Bootleggers."
Prohibition was repealed in 1933, but Oklahoma was a dry state until 1959. Keeping liquor illegal pleased Southern Baptists and other evangelicals, but Oklahoma wasn't really dry. Entrepreneurs known as bootleggers bought federal licenses and provided clients with booze at jacked-up prices. Whenever liquor legalization came up for a vote, the bootleggers bankrolled the Baptists' radio commercials opposing repeal of the booze ban. Prohibitionists felt good because the symbolic liquor ban stayed in place. The booze guys kept their racket going.
Well-intentioned reformers pushed New York state and New York City cigarette taxes to levels where only Marie Antoinette could afford to smoke. Eric Garner paid the real price. He was choked to death during a street-corner arrest for selling cigarettes smuggled in from North Carolina.
Closer to home, the Legislature will re-examine Sunday alcohol sales and who can distribute and sell beer. Both are vestiges of the Prohibition era.
Higher cigarette taxes are a perennial issue. Current e-cigarette regulation is a bone of contention. Anti-smoking groups don't like nicotine in any form. Industry insiders appear to have obtained specific legislation that effectively limits entry by competitors. This pleases public health advocates and, of course, the industry insiders.
The whole mess is tied up in litigation over whether the legislation is so blatantly special interest that even the state's general power to protect public health can't be stretched that far. 
So when it comes to sin regulation, it's pretty much tout la meme chose (all the same thing). At least we don't have state-run liquor stores!•
__________
Bohanon is a professor of economics at Ball State University. Styring is an economist and independent researcher. Both also blog at INforefront.com. Send comments to ibjedit@ibj.com.
Please enable JavaScript to view this content.