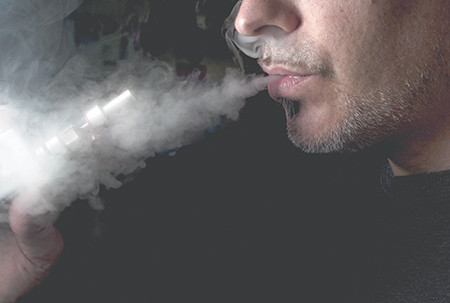 Indiana's vaping industry could be upended again as lawmakers tackle changes to a law that has been roundly criticized as unfair and even corrupt.
Head
State Sen. Randy Head, R-Logansport, said he will file a bill next week to "stop the monopoly" that was created by legislation passed in 2015 and amended in 2016, which essentially put one private security firm in charge of deciding which firms could manufacture the "juice" used in e-cigarettes sold in Indiana.
Head is pursuing changes that would include lessening overall restrictions on the industry and removing a requirement that e-liquid manufacturers contract with a private security firm to be licensed by the state.
Head said doling out permits for e-liquid manufacturers isn't a decision that should be in the hands of a private company—which is essentially what occurred when the state created such stringent rules for security firms that only one company could meet them.
"It's a government function and the government ought to do it," Head said.
His bill would also seek to quash a requirement that barred new manufacturers from entering the industry after July 2016.
"We want common-sense regulations like safety caps and understanding what the ingredients are," Head said. "But if I want to go into that business and I can prove I'm the safest on Earth, I'm not allowed to go into that business now. That … just doesn't make sense."
Head, who voted against the previous vaping bills because of concerns about overregulation, said he is trying to strike the right balance on rules surrounding production and monitoring of the products, especially now that the FDA has issued its own regulations.
For instance, current Indiana rules require that manufacturers have constant video monitoring of their facilities.
"We buy coffee at Starbucks, we buy hamburgers at McDonald's, and those things can kill us if they're not done properly or a dangerous substance is put in them," Head said. "But we don't mandate that there be 24-hour video monitoring of the people creating those products."
Head will also have to tackle the "tough wicket" of dealing with the six e-liquid manufacturers initially approved under last year's requirements. All of those companies were required to sign confidential agreements with Lafayette-based Mulhaupt's, the only security firm that could meet the stringent requirements. Any company Mulhaupt's rejected was unable to get a license under the state rules.
Head is considering whether to force those six companies to reapply to the state for a license under the new rules. Even if they had to reapply, though, Head said they should easily qualify.
"The restrictions would be much less than we've already passed, so I don't think it would put them out of business," Head said.
One additional manufacturer has received a license under a court order following a judge's determination that the law was unconstitutional. That decision, however, applied only to one firm.
The Vapor Association of Indiana, which represents the six initial licensees, did not reply to IBJ's request for comment.
The gatekeeper
The changes are likely to have the biggest impact on Mulhaupt's, the company that's become the gatekeeper of the industry.
If Head's bill passes, manufacturers would no longer need contracts with Mulhaupt's to do business in Indiana.
Head said he is still mulling what to do about the security contracts the six original licensees have with Mulhaupt's—including whether they should be legislatively dissolved.
"Does the state want to be in the business of voiding private agreements?" Head said. "The counterargument is that the state made [the contracts] necessary."
Mulhaupt's President Doug Mulhaupt said company officials "will watch the legislative process closely and are ready to be a resource for lawmakers regarding proper e-liquid security protocols."
"Any changes to Indiana Alcohol & Tobacco Commission requirements or state vaping laws should not put consumer safety at risk," Mulhaupt said in a statement.
Head has met with a representative of the company and said he believes officials there are aware the monopoly situation "has to change."
Meanwhile, groups on both sides of the debate are ramping up their legislative efforts.
Last week's IBJ reported that the Vapor Association of Indiana has hired former state Sen. Brent Steele to lead the group. Though he is specifically banned from lobbying at the Statehouse for a year, Steele has told other media outlets that the group will hire a lobbyist to work on the issue this year.
And critics of the initial law, including small and national manufacturers, along with the Indiana Petroleum Marketers and Convenience Store Association, are joining together in a coalition to lobby for changes.
Their effort will be led by the Indiana Smoke Free Alliance, which has hired Krieg DeVault LLP to help lobby at the Statehouse.
Amy Lane, president of the alliance, said the coalition is "in full support of Sen. Head."
"We want to see reasonable, common-sense regulation in place of the monopolistic regulations in place now," Lane said. Head "is going in the same direction we all want to go in."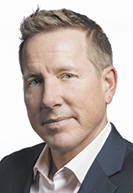 Leppert
Mike Leppert, a lobbyist with Turning Point Brands—formerly National Tobacco Co.—said what advocates want is "the ability for us to enter the market in Indiana as we have entered the market in 49 other states, being in compliance, and being responsible businesses here."
"We hope to see and have expectation to see legislation that allows the market to operate in Indiana the way it does elsewhere," Leppert said.
In line with the feds
Evan McMahon, who runs the small-business advocacy group Hoosier Vapers, is encouraging lawmakers to create Indiana rules for manufacturers that match or complement those required in 2016 by the federal Food and Drug Administration.
The FDA's regulations cover manufacturer registration, products, labeling and advertisements. They require products to list their ingredients and include warning statements on packages and ads.
Scot Imus, executive director of the Indiana Petroleum Marketers and Convenience Store Association, said he believes the new "federal regulations sufficiently safeguard the public's health."
Head said his bill is expected to be filed as Senate Bill 1—a number typically reserved for one of the chamber's highest-priority bills. That's no surprise given the controversy around the current law and an FBI investigation of its passage—turmoil that led Senate President Pro Tem David Long to say last year that the law will change.
"I think it's clear that the Senate is serious about making this right," Leppert said. "We have faith they're going to stay the course on that."
If the bill gets through the Senate, its fate becomes less clear.
House Speaker Brian Bosma told IBJ he is not clear who would carry a similar bill in the House or sponsor the changes.
"We've all acknowledged the security legislation that was adopted last year has some issues," Bosma said. "We have said we'll be addressing it."•
Please enable JavaScript to view this content.