Had Patrick Jamieson waited for venture capital or angel investors, his Logical Semantics Inc. would have expired long
ago due to irreversible coagulative necrosis.
Or, as his medical speech
recognition and data-mining software might say, the company would have died from
loss of blood.
The lifeblood of emerging firms like his medical informatics
company is cash from wherever it can be found, and is often in short supply.
"In some years I've used savings from my 401(k). It's been
on a shoestring," said Jamieson, a physician and CEO of the seven-year-old
Indianapolis firm.
More emerging life science companies such as Logical
Semantics have found life in the form of federal Small Business Innovation Research
grants.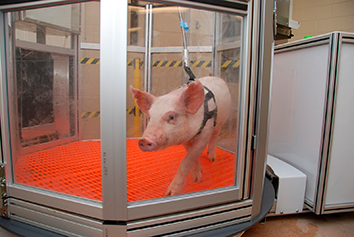 Bioanalytical Systems Inc. of West Lafayette received $592,548 in grant money for a cage to
better harvest biofluids and acquire physiological data from pigs. (Photo courtesy
Bioanalytical Systems Inc.)
The grant money flowing to Indiana life sciences companies is still
modest, at $8.5 million last year, according to the National Institutes of Health.
Yet the sector is attracting more—$5.9 million
in 2007 compared to just $4 million in 2002—than when Jamieson's firm spun out of Indiana
University.
Without the federal money, a lot of university research
wouldn't be developed into products, said David Johnson, president of BioCrossroads, a public-private
collaboration focused on growing the state's life sciences industry. "The federal funding
is absolutely essential."
The grants usually range from a maximum of $100,000 to establish
the technical and scientific merits of a concept, to phase II funding of as much as $750,000 to continue
research and development.
The funds are strictly designated for research
and development. They can't be used for regulatory filings or purposes such as renting
office space.
Some of the increase in SBIR money flowing to Indiana
life sciences firms likely resulted from the Indiana Economic Development Corp.'s
ramping up grant-writing assistance.
Crafting a winning SBIR grant application makes
completing Form 1040 seem like a game of tic-tac-toe.
"We're
trying to make the process that normally is very brutal easier for the newbies," said Brooke
Pyne, the IEDC's SBIR director.
Across life sciences and all
other industry sectors, Indiana was awarded about $27 million in SBIR funding last
year.
Relative to some states it's not much, but it's a
big jump from about $17 million in 2007. Pyne said some of the increase is likely
due to outreach efforts, which include grant counseling by phone and through seminars
statewide.
"I think you're seeing the beginnings of that
effort," said Ken Green, co-founder of Spring Mill Venture Partners, in Carmel. "It's
good money if you can get it."
Good money
indeed for a company with essentially no revenue.
Jamieson, the Logical
Semantics chief, pulled down $429,955 in a recent round of SBIR grants after snagging $200,000 about
four years ago. His firm also has racked up tens of thousands of dollars from local sources,
such as prizes from a second-place finish in the 2003 Purdue Life Sciences Business Plan Competition.
With money from the latest grant he wants to classify at least 2 million new "unique"
sentences from records of multiple medical institutions. Logical Semantics also is using the money to
provide an automatic medical records coding service, in a test with hospitals participating in the Indiana
Health Information Exchange.
Jamieson plans to provide a software service where
health care payers would submit radiology reports to Logical Semantics for coding. They would receive
back detailed, codified information. Jamieson also wants to allow insurance companies
to mine the information to learn more about disease prevention and management as
well as setting rates.
Other SBIR grant recipients have pulled down
even more money and are closer to product launch.
Indianapolis-based SonarMed Inc., which is perfecting a device that uses sound waves to help position
and monitor breathing tubes, has received more than $2 million in SBIR grants over the years.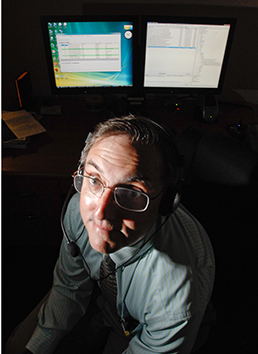 Logical Semantics Inc. CEO
Patrick Jamieson. (IBJ Photo/Robin Jerstad)
SonarMed also managed
to lasso big local funding, including $250,000 from the BioCrossroads Indiana Seed Fund.
But it's been a long road, said Jeff Mansfield, a SonarMed principal who started working on the technology at Purdue
University way back in 1990.
"There's a lot of development
work. You have to put a quality system together to follow it. It's a lot of
documentation and a lot of testing," Mansfield added.
Jamieson,
whose shoestring operation sometimes enjoys cheap labor in the form of IU students and researchers, said,
"It can take many years to know whether a technology is going to work or not."
Yet year after year Jamieson plods ahead, producing no commercial product
but filing for nine patents—three of which have been awarded. Jamieson has managed to
leverage his federal grants, landing a state match for his phase 1 SBIR grant.

The IEDC offers a dollar-for-dollar match up to $100,000. It also offers as much as $350,000 in enhancement
grants to help firms with commercialization costs, which the federal government doesn't fund with
phase II grants.
The money comes out of the Indiana 21st Century Research
and Technology Fund.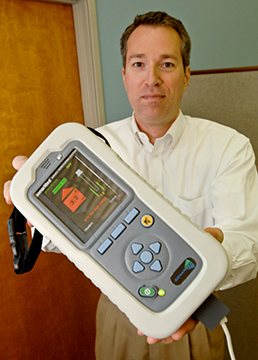 SonarMed Inc. president Andy Cothrel
(IBJ Photo/Robin Jerstad)
Mansfield, who hopes for a product launch next year, said the SBIR
money helped ripen the technology to the point of luring private investment from Spring Mill Venture
Capital. "It's helped us actually fund the company and attract investors."
Among recent SBIR recipients is Bioanalytical Systems Inc., a publicly traded company with 280 employees
and annual revenue of $42 million. The West Lafayette firm pulled in $592,548 to refine a prototype
movement-response cage it made for mini-pigs that allows for things such as automated blood sampling
and collection of bio-fluids.
Pigs, explained
Bioanalytical in its grant application, develop conditions, such as obesity and cardiovascular disease,
similar to humans. Yet on the laboratory level "pigs are under-utilized."•
Please enable JavaScript to view this content.