When Rachel Modiano graduated from Indiana University two years ago, an offer from Procter & Gamble was waiting for her. But she turned it down.
She opted to stay in Indiana and accept a Governor Bob Orr Indiana Entrepreneurial Fellowship instead. After the two-year program, she accepted a job handling outsource marketing at Sigma Micro, an Indianapolis software firm.
She's in good company. Many young women who have participated in the fellowship have landed at high-flying local technology firms, such as ExactTarget, BlueLock and Cantaloupe.
It's an industry in which women are under-represented. For example, at TechPoint, an Indiana trade group, just two of 32 board members are women. But the Orr fellowship is starting to change the local tech landscape, a handful of women at a time.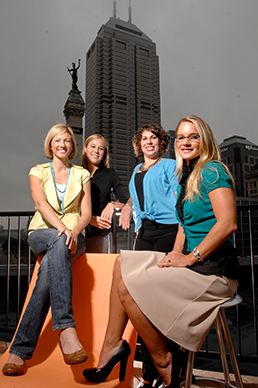 The Orr fellowship has propelled some women into technology careers. From left are Alison Sales Roach of Compendium Blogware, Amy Condle of ExactTarget, Rachel Modiano of Sigma Micro, and Alicia Glick of BlueLock.
"Having the Orr fellowship is just wonderful because it's really incenting bright young women to go into a field they might not have gone into," said Stacey Smith, CEO of Prairie Quest Consulting, a management consulting firm with offices in Indianapolis and Fort Wayne.
The proportion of women in technology jobs on the East and West coasts is getting stronger, but the Midwest lags behind, added Smith, a recent member of TechPoint's board.
Every year since its inception in 2001, the Orr program has selected 10 new graduates, among several hundred applicants, and matched them to a job in a small, growing company. Both men and women are eligible. Executives from 29 companies have hand-picked 80 graduates, with an average grade point average of 3.62, to be fellows. After two years, host companies can choose to keep fellows on, or not.
The program plans to boost the number of participants to 20 in 2010, gradually building to 100 a year.
Accidental focus
The high number of Orr fellows placed in technology companies is not deliberate, said Scott Brenton, a fellowship co-founder and chief operating officer at locally based Angie's List, a host company for Orr fellows.
"It just so happens that lots of well-run, fast-growing companies in central Indiana are grounded in technology," he said.
The program also may be helping keep some of Indiana's brightest young people in the state.
Modiano, a native of Columbus, Ohio, was tempted by the offer from Procter & Gamble in Cincinnati, but she decided the Orr fellowship offered more opportunities.
"I figured I'd get more hands-on experience with the fellowship, to touch and see the petals of a business, getting my dirty little fingerprints all over everything," she said.
She reports directly to a vice president, and is able to take part in major decisions, which she would probably not be able to do at a larger company. She also gets to meet top local business people at Orr networking events.
The fellowship draws women into technology who might not have considered such a career, Modiano said.
"The Orr fellowship is an amazing program because it allows you to get into companies that don't often recruit [new] college grads for the positions that they're in," she said. "[Liberal arts majors typically] don't get to be marketing and communications professionals in these types of companies."
From fellow to entrepreneur
A case in point is Alison Sales Roach, an Orr fellow from 2003 to 2005. She majored in English at DePauw University and was not very attracted to technology.
"I was more interested in marketing and figured good writing skills couldn't hurt any position," said Roach, who grew up in Columbus, Ind.
As an Orr fellow, she worked for two years at ExactTarget, an e-mail marketing software company, where she was mentored by Chris Baggott, one of its co-founders. There, she became intrigued by "real-life problems that all marketers face: How do I generate a never-ending stream of demand? How do I constantly get new, inbound prospects in front of our salespeople?"
She left to head online marketing at the local office of RCI, a New Jersey-based resort timeshare network, and then at ChaCha, a Carmel mobile search company founded by Scott Jones.
In 2007, the entrepreneurial spirit struck. She and Baggott co-founded Compendium Blogware, which specializes in blog software and search engine optimization. Named to IBJ's 40 Under 40 list this year, she is president of the company, which has 35 employees, offices in Circle Tower and 40 angel investors.
"Getting technology to solve problems is easy when you have lived them firsthand," Roach said. "You are always in the shoes of your users. So I never really aspired to create technology, but technology was the inevitable solution to the problem of customer acquisition. And the broad exposure I was able to get at ExactTarget as an early employee and part of the Orr fellowship gave me a good sense of how you build a technology company from a business perspective."
The appeal of intensity
That philosophy is also what drew Alicia Glick to the fellowship. Glick, who graduated from Indiana University with a degree in liberal arts and management, was moderately interested in technology before becoming a fellow last year.
"I was mostly interested in the overall Orr fellowship experience: access to higher-ups, engaging and impactful projects, and the immediate group of peers I'd be involved with right out of school," Glick said. "However, I can say that after spending a year in Indianapolis and experiencing the thriving technology industry in the area, I've grown extremely fond of it."
She worked about six months in marketing at Cantaloupe, a Fishers company that produces video magazines, and then moved to a marketing specialist position at BlueLock, a sister company that provides virtual information technology infrastructure.
When Amy Condle graduated from Butler University with a degree in international management two years ago, she wasn't sure what she wanted to do. The opportunity to work in a variety of capacities at ExactTarget through the Orr program appealed to her. After stints in three departments during her fellowship, she was hired as relationship marketing manager.
"I didn't plan on technology," Condle said. "It seemed very interesting because of the high growth and fast-paced environment. It's hard for some people to adjust to, but I really like it."
Shifting the target lower
However, the challenge of attracting women into technology begins much earlier than college, said Sue Workman, associate vice president of information technology at Indiana University. Efforts need to be made throughout elementary, middle and high school, she said.
The Orr program is tackling that front as well. Thirteen Orr fellows are mentoring students at New Tech High, a magnet program at Arsenal Technical High School, just east of downtown.
"The kids relate better to us than people their parents' age," said Modiano, one of the mentors.
Luring more women into technology doesn't just help women have satisfying careers; it also enriches the field, Workman said.
"Men and women view things a little bit differently," Workman said. "Women have a different viewpoint of how technology can be used in the work environment today. … We need more women."•
—Tawn Parent contributed to this story.
Please enable JavaScript to view this content.