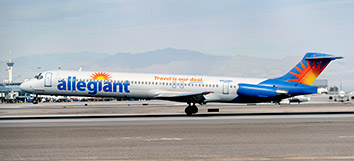 The low-cost airline Allegiant on Tuesday announced new nonstop service to Austin, Texas, and to Destin-Fort Walton Beach in Florida.
The Las Vegas-based airline is the only carrier to serve either market. It entered Indianapolis in 2015—focusing on flights to secondary airports, where landing fees are lower—and now offers nonstop service to 11 destinations.
"These flights are highly valuable to the Indianapolis market, particularly with direct reach into Austin," Mario Rodriguez, Indianapolis Airport Authority executive director, said in a statement. "Austin is one of our top five unserved destinations, and the Allegiant flight will give Indianapolis not only new access to the central Texas region, but will expand our reach into the western United States."
The Austin route will be via Austin-Bergstrom International Airport. The other new route, serving Florida's so-called Emerald Coast, will run via Destin-Fort Walton Beach Airport. Allegiant will fly twice weekly to both destinations, with Austin service running year-round and Destin-Fort Walton Beach service running seasonally. Flights will begin to both destinations in May, with introductory fares starting at around $60.
Indianapolis airport officials have been focusing for years on securing nonstop service to more destinations. It now has nonstop service to more than 40 destinations.
Southwest Airlines said last week that it will offer nonstop daily flights between Indianapolis and San Diego from June 4 to Aug. 14. It will be the only carrier serving that southern California market.
Though the San Diego flights last for less than six weeks, the IAA called the announcement a "great tee-up for what could be ahead."
Rodriguez said San Diego was the "top unserved market" for Indianapolis International Airport.
"San Diego is heavy with business opportunity, particularly in the tech sector, and it's a favorite conference destination and a strong leisure hold in southern California," Rodriguez said.
 
Please enable JavaScript to view this content.