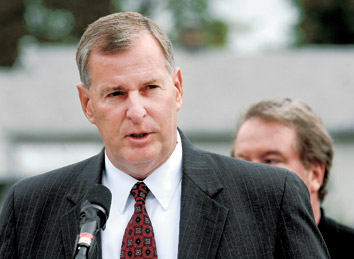 Former Indianapolis Mayor Greg Ballard said he was "deeply impressed" following a meeting in New York City on Wednesday with President-elect Donald Trump's transition team.
Robert Vane, the former two-term Republican mayor's spokesman, said Ballard was invited to come out to New York to have a discussion about joining the administration in some capacity.
"We had a wide-ranging discussion, and I was deeply impressed by the knowledge and professionalism of the people in the room," Ballard said in a statement. "It is an honor to be asked to participate in this process, and I look forward to further conversations."
Ballard served as Indianapolis mayor for eight years through 2015. He also served for more than 23 years in the U.S. Marine Corps.
He is said to be interested in joining either the veterans affairs, transportation or energy departments, fitting with his interests during his time in office.
Please enable JavaScript to view this content.