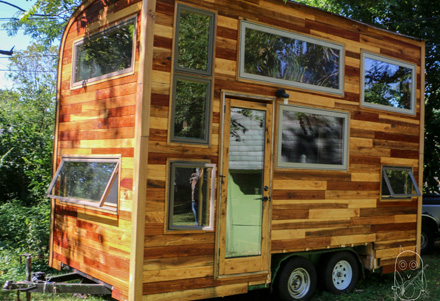 A Zionsville woman is gearing up to launch a sharing-economy platform for tiny homes, an Airbnb of sorts for compact dwelling places.
The online web application, called Try it Tiny, aims to connect property owners and rental seekers in the small-home niche. The service is not only for home sharing—specifically mobile properties 400 square feet or less—but also for land sharing so that renters can find plots to park their mini abodes, most of which are on wheels.
Maggie Daniels, 30, officially formed Try It Tiny LLC last summer and plans to debut the platform this spring. She has roughly 40 beta users and 400 subscribers interested in a launch-date notification, and she raised $175,000 in a seed round last month to fund the business.
"Basically we're trying to appeal to a broad spectrum, no matter where you are in the tiny house movement—whether you're just learning or you've been living tiny for a long time," Daniels said. "And in doing so, hopefully we're helping those that want to live a more self-sufficient and minimalist lifestyle … as well as that family who could use a little extra cash though land sharing."
Daniels, the daughter of former Indiana Gov. Mitch Daniels, graduated from Indiana University in 2008 with a degree in finance, did a brief stint as an analyst at investment bank Lehman Brothers in New York before its collapse, and worked another six years at investment bank Barclays.
She left New York in mid-2014 to be closer to family in Indiana, and worked as an investor relations director at Kite Realty Group until December.
She got the idea for Try it Tiny after unexpected success with renting her regular-sized home, which is on the rural outskirts of Zionsville, on Airbnb. She realized that she needed a place to stay while renting her home, so she started building a tiny home for herself off site. After researching the industry, she learned there was a market for tiny home sharing and land sharing.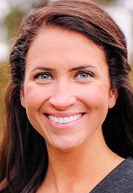 Maggie Daniels
"I had initially planned on it being a side project," Daniels said about leaving her job at Kite, "but once there was funding interest and I did my initial survey, it was pretty clear it was going to need my full-time attention."
Daniels said the interest in tiny homes is strongest among millennials and baby boomers, and it's fueled by factors including low costs, a minimal carbon footprint, and the flexibility to travel.
She's the only employee for now, although she does contract with a team of software developers through Moser Consulting. She had previously worked from home but recently got a membership to co-working organization The Speak Easy.
Please enable JavaScript to view this content.