When Brothers Bar & Grill set up shop in Broad Ripple, it seemed to have found the ideal spot for its "big, basic, bar comfort food" with "nothing too difficult to pronounce" (to use the Wisconsin-founded company's own description of its fare).

Ideal for the extended-weekend bar crowd and big enough to handle game-watching gaggles, the Broad Ripple Brothers didn't seem to earn or want much recognition beyond its core constituency.

But now Brothers has set up shop downtown (255 S. Meridian St., 317-624-2767) just north of the railroad underpass, and, while much of its business will come from weekend partiers, the new spot is also open to the lunchtime worker clientele.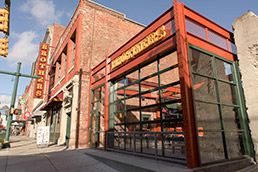 The new Brothers location includes an enclosed patio. (IBJ photo/Eric Learned)
What they'll find is a roominess that, while accommodating to the evening mob, can prove cavernous in daylight.

I paid two visits recently and, on one, I was the only person being served during lunch. And I was aware of the void during every bite. On another occasion, though, a reasonable crowd spread out through the space hinted at how lively it can be on the right nights. And a semi-enclosed patio along the side of the building promises to biggie-size the place even more when weather permits.

There are, of course, banks of big-screen televisions. And while most of the signage has to do with Jager Bombs, Fireballs and other methods of mass intoxication, in the back, by the pool table and darts, there's a sign for Roberts Distributors, a nod to the long-standing former occupant of the building.

As for the food, I strongly suggest an initial order of Wisconsin World Famous Cheese Curds ($8.99). The lighter, airier cousin to the heavier mozzarella stick, these minor masterpieces have just enough beer-batter breading to give them resistance while never getting in the way of the cheesy goodness contained within. Dipping them in ranch dressing seemed almost criminal.

Like a trust fund student who wants to seem like "just one of the guys," the Brothers Good-n-Ugly Stacked Patty Melt ($8.25) isn't nearly as down and dirty as it purports to be. Instead, it was a relatively contained one-third pound of seasoned ground chuck between slices of lightly grilled marble rye bread with Swiss cheese, onion and Thousand Island dressing that didn't overtake the sandwich.

Sloppier, actually, was the seemingly innocuous Parmesan Chicken Sandwich ($8.99) housed on a heavily buttered burger bun. One bite and a steaming glob of marinara sauce shot out the back, burning my hand and leading to a cautious use of knife and fork for the rest. Safer but still messy was the verbosely named "(Son of) Chicken Longboard Sandwich" ($9.25) with grilled chicken, pepper jack cheese, Creole mayo, jalapeno slices, tomato and lettuce. Here, it was the small chicken pieces that escaped from the hoagie bun. Again, the fork had to be put to use. The Cod Almighty Sandwich ($8.50) was more manageable. Its keeper-size beer-battered fish was crispy, not greasy, and the bun did its job while never making the sandwich too bready.

If none of the above seems decadent enough for you, there's always Gator Balls ($9.25), chicken breast wedges stuffed with pepper jack cheese and jalapenos and wrapped in applewood smoked bacon. But be warned: Such indulgences can lead to State-Fair-inspired desserts, including Deep Fried Oreo Cookies ($4.99) and Cinnamon Soft Pretzels ($5.99).•