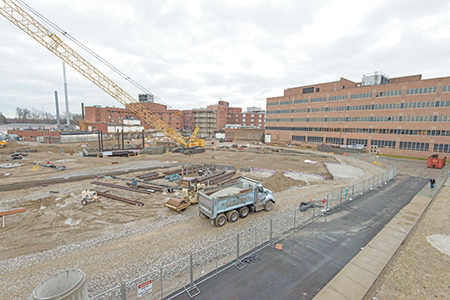 The wrecking ball is busy at Community Hospital East, knocking down one building after another, as workers ready the site for a brand-new, $175 million hospital.
It's a huge investment for the east-side neighborhood, where incomes are some of the lowest in the region, the crime rate is high, and 70 percent of patients are on Medicare or Medicaid (the national average is 58 percent for a typical hospital).
Already, demolition workers have leveled four buildings on the 28-acre campus at East 16th Street and Ritter Avenue, some dating back to the hospital's founding in 1956. Two more will come down, totaling 465,000 square feet of demolished space.
A few dozen steps from all the commotion, surgeons continue to perform operations, nurses tend to recovering patients, and the emergency room patches up victims of gunshots and car crashes.
That will continue right up until the new hospital opens late next year, with new operating rooms, a larger emergency room and a 175-bed patient tower. The hospital is set to be smaller than the existing one, with 250,000 square feet of new space, but more efficient.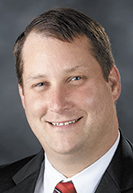 Kunzer
"If you watch the news, what you'll hear about the east side is, 'Oh, there's another shooting,'" said Dr. John Kunzer, the hospital's chief medical officer and senior vice president. "But for folks who live on the east side, this is very symbolic of what's happening to their community. … There's a lot of people trying to revitalize the east side."
The construction project is bucking a national trend. In recent years, hospital systems have shut down facilities in Chicago, Detroit, Los Angeles and other cities, as their owners open multimillion-dollar facilities in the suburbs to attract better-heeled patients with private health insurance plans that pay higher reimbursements. Sometimes the new hospitals are tiny versions of full-service hospitals, costing a fraction of the traditional hefty price tag.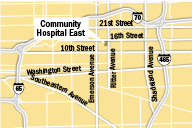 An analysis by the Pittsburgh Post-Gazette and Milwaukee Journal Sentinel in 2014 found that nearly two-thirds of the roughly 230 hospitals opened since 2000 are in wealthier, often suburban areas—not in poor city neighborhoods, where the sickest populations live.
In central Indiana, too, hospital systems have favored the suburbs. Last year, St. Vincent announced plans to open eight "micro-hospitals" in Noblesville, Avon, Plainfield and other areas with higher-than-average incomes.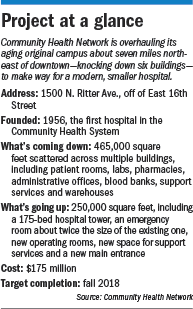 Franciscan Health last year announced plans to open a $50 million micro-hospital and medical complex in fast-growing Johnson County, just a few years after it closed a hospital in blue collar Beech Grove.
In recent years, Indiana University Health has built hospitals in Carmel, Fishers and other high-income suburbs. Now it is on the verge of consolidating its huge downtown campus.
Neighborhood commitment
One hospital consultant called Community's decision "a wonderful thing."
"To see an organization like Community reinvest in a disadvantaged area to make sure that health care is accessible and available to that demographic is something to be applauded," said Elizabeth Walker, an Indianapolis hospital consultant and chief strategy officer with Quorum Health Resources. "It stands in stark contrast to what is going on in the rest of Indianapolis right now."
But the road to reinvest at Community East was bumpy, and filled with some detours.
Originally, Community Health considered moving the hospital out of its neighborhood, where it had been an anchor for more than a half-century, to a more visible location along Interstate 70. It considered locations near Shadeland Avenue, Post Road and even in Hancock County.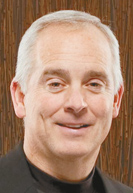 Mills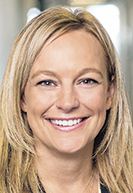 Walker
"We looked at a bunch of places," acknowledged Bryan Mills, Community Health's president and CEO.
But gradually, he said, the hospital system felt it could not abandon its roots. The hospital is nestled deep in an older neighborhood, with houses visible from many rooms on campus. It was the original facility in what would grow to become an eight-hospital system. About 250,000 people live within a five-mile radius of the East campus.
"If you draw a pretty narrow radius around that hospital," Mills said, "you get to hundreds of thousands of people pretty fast. And there's nothing else near there with an acute-care facility. So part of it was to say, 'This is our responsibility. This is part of our history.'"
So how did Community Health figure out how to make the finances work at East? Even with a market share of about 23 percent on the east side, the profit-and-loss statement has been tight for years.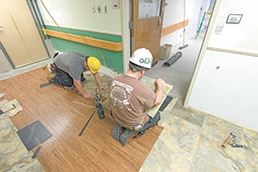 Six buildings in total will come down to make room for 250,000 square feet of new space. The rebuilt hospital is expected to open in late 2018.
(IBJ photo/Eric Learned)
A big part of the answer came from Washington, D.C., which has been reconfiguring health care for much of the past decade.
Like many hospital systems, East took advantage of Obamacare to encourage patients to get on the health care exchanges, apply for subsidies and seek coverage under the Medicaid expansions through the state.
"We've been providing a lot of services to people that we would not have been able to do so if it were not for those insurance coverages," Mills said.
After deciding to stay in the neighborhood, Community's plan was to renovate the existing buildings, many of which were cramped and antiquated. Some of the patient rooms lacked hot water and private bathrooms.
The revamped, modernized Community Hospital East will have new operating rooms, a larger emergency room and a 175-bed patient tower.
(Rendering courtesy of Community Health Network)
But within a few months, officials realized that, for the same money, they could tear down many of the older buildings and construct a modern hospital.
They could also right-size the buildings for current needs. The 10-building campus once housed many functions that have since been moved or shut down, including pediatric inpatient care, cardiovascular care, blood products and a central warehouse. The 1-million-square-foot operation was just too big and inefficient. Some parts of it nearly rattled in the wind from underuse.
"We had a huge operation, just from the standpoint of the physical plant," said Paige L. Dooley, chief nurse executive and vice president of patient services at East. "The footprint was too big to service a patient census of 150 [inpatient admissions a day]."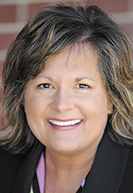 Dooley
Lots of advice
But what should the new place look like?
The answer was to invite hundreds of doctors, nurses, technicians and administrators into meetings to help with the design. The goal was to upgrade patient care with private rooms and make jobs easier for doctors and nurses with modern facilities.
The group came up with a streamlined design that includes an emergency department about double the size of the existing one. Last year, the emergency department had 95,000 patient visits in a space designed for one-third of that volume.
The number of patient beds will be 175—far lower than the 800 the hospital operated in the 1980s. That reflects the steady dwindling of inpatient admissions at hospitals all across the country, as more procedures are done on an outpatient basis.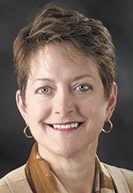 Koehler
The new hospital will have modern lighting, safer floors, larger restrooms and a host of other upgrades.
As part of the renovation, Community will move its family medicine center from 10th Street and Mitthoeffer Road to the East campus. It will have a "clinical decision unit" that will give a little extra medical attention to patients who walk into the emergency room but don't necessarily need an admission.
Overall, the hospital will just feel a little brighter and shinier.
"We've been providing care in older settings for a long time," said Suzanne Koehler, vice president and chief operating officer of Community's East region. "We've worked hard to keep them up, and they've served us very well, but they're not efficient. They're not attractive on the exterior. This is an opportunity to update the campus, update the style of service, make it easier for patients to get around."•
Please enable JavaScript to view this content.