Remember the movie "Gremlins," when spilled water and after-midnight feedings caused one of the title creatures to spawn exponentially?

Something akin to that seems to be happening with brewpubs, sprouting up both locally and around the country. More like coffee shops than restaurants for the obvious reason that they focus on a specific beverage and its variations, they are also similar because the duration of customer visits covers a wide range.

There's the grab-one-before-heading-elsewhere customer and the make-it-a-night gab group that gathers at the bar. For every treat-it-like-a-restaurant patron, there seems to be a laptop-opening, beer-sipping squatter oblivious to what else is going on in the room. And now there are connoisseurs—the new breed of brew experts, the hops heads who savor their ability to talk about beer almost as much as they take pleasure in drinking it.

And in the new crop of brewpubs, there's as much variation in menu offerings as there is in the clientele. Some places stick strictly to what comes out of the taps. Others throw in a few obligatory munchies. Still others are more ambitious on the food front.

One of the newest, Cannon Ball Brewing Co. (1702 Bellefontaine St., 317-426-5978), is in the last category. Housed in a 100-plus-year-old building that first held a butcher shop and deli, it still has a limestone plaque out front touting its original owner and ghost signage on its south face.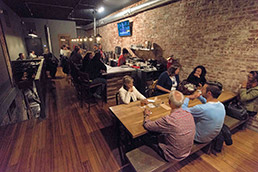 Intimacy is a strong point for Cannon Ball Brewing Co.—provided you can snag one of its few tables. (IBJ photo/Eric Learned)
Inside, well, intimate is hardly the word. There's a bar and just a few tables, which could make for a frustrating experience if dining is part of your plan. Arriving early on two occasions, though, I didn't have a problem with seating.

On my first stop, I paired Cannon Ball's One Night in Bangkok Thai Basil Ginger Golden Ale ($5.50) with a Turkey Panini ($12). While, as presented on the menu, the sandwich might sound like an easy offering for a small-footprint kitchen, it actually demonstrated care and thought, as one would expect from Chef Erin Kem, formerly of R Bistro. Almond butter and fennel-apple salad upgraded the layered pepper turkey, and the sandwich itself was pressed to proper crispness without tipping into being overdone. Other sandwiches on the menu include Eggplant Spread with Red Pepper Eggplant Relish, Mozzarella and Arugula ($12) or, for those who don't want to think that hard, Grilled Cheese ($10).

A small kitchen and few tables means, I suppose, staff caution in ordering ingredients—which might explain why, on both visits, some items from both the drink and food menus were unavailable. So on a return visit, I had to forgo trying the Tunisian Rabbit Curry ($16), which piqued my interest the first time I stopped in. Instead, I paired the Bakers Black IPA ($5.50) with the Posole ($14). The variation on the traditional Mexican stew here proved relatively mild but comforting on a cold night, with shredded chicken, ample hominy kernels and plenty of broth. I just wished I had some bread to sop up what remained.

Kem and company also have concocted a set of desserts, although—again—availability can fluctuate. With my first choice, Swedish Chocolate Balls ($7), unavailable, I went with what is innocently presented on the menu as Ice Cream Sandwich ($7). In actuality, it proved to be a quartet of soft Chocolate Porter Cake Cookies, each pair sandwiching a small scoop of ice cream, one cinnamon and the other vanilla orange cardamom, a surprisingly pleasant combination but not one you can pick up like a standard frozen version of the treat.

Service was impeccable and friendly, without the airs that can sometimes be off-putting for newcomers, but with a strong knowledge of both the food and drink offerings. A parking lot and back entrance add to the convenience—and should help you gauge before you even walk in whether you'll get a seat.•