A company museum at Rolls-Royce North America's downtown Indianapolis campus is designed to emphasizes the manufacturer's past while also looking ahead.
The 6,000-square-foot showcase, which opens Tuesday at 450 S. Meridian St., features aircraft engines dating back to the 1920s—when aviation was young and Rolls-Royce traced its roots in Indianapolis to Allison Engineering Co.
But the James A. Allison Exhibition Center also includes more modern items, including the Indianapolis-made LiftFan that Rolls-Royce manufactures for F-35B military fighter jets. 
Indianapolis-based VisionThree LLC created interactive digital displays where visitors can learn more about the objects in front of them. A wheeled cabinet filled with educational materials will enable visiting school groups to have on-site lessons.
Organizers say a major goal of the museum is to get youngsters interested in science and technology—and maybe to pursue an aerospace career down the road.
"This is the place to start the spark," said Rolls-Royce retiree Dave Newill, the president of the Allison Branch of the Rolls-Royce Heritage Trust.
Newill knows how important that early spark can be. 
His grandfather, E.B. Newill, was general manager of the Indianapolis manufacturing site, then part of General Motors, in the 1940s and 1950s. The younger Newill has memories of visiting Allison with his grandfather, then being quizzed the next day on what they had seen.
"I guess that [aviation] was in my blood a little bit," Dave Newill said.
Newill leads one of five branches of the Heritage Trust, which are dedicated to preserving the history of the ancestor companies that eventually became part of the modern Rolls-Royce, an international corporation with operations in more than 50 countries. The Allison Branch is made up of volunteers—mostly retired engineers from Rolls-Royce and other companies.
This is actually the second location for the local exhibit. From 2008 through 2015, it was housed at Rolls-Royce's Raymond Street manufacturing plant. At that location, the exhibit drew only about 4,000 visitors a year.
"It was tucked away in southwestern Indianapolis," said Rolls-Royce spokesman Joel Reuter, in a spot that wasn't easy to stumble across. 
Organizers hope the exhibit's new location, within a short walk of both the Indiana Convention Center and Lucas Oil Stadium, will catch the eye of downtown visitors.
"If you only had 1 percent of them showing up [at the Rolls-Royce museum], it would overwhelm us," Newill said in a hopeful tone of voice.
Rolls-Royce is midway through a $400 million project to modernize its Raymond Street and Tibbs Avenue facilities. As part of that project, Rolls-Royce budgeted $750,000 to update and relocate the museum to its downtown campus, Reuter said.
Another $5,000 or so came from the Heritage Trust, which is a not-for-profit organization. Members raised the money through donations and through sales of a book about Allison's early history. That book, "Jim Allison's Machine Shop: The First 30 Years," was written by John M. Leonard and published by IBJ Book Publishing LLC.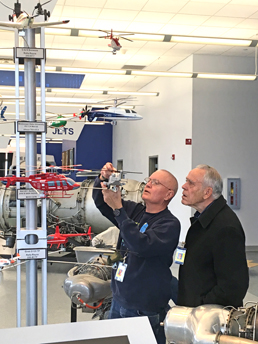 John Leonard, right, literally wrote the book on Allison Engineering's early history. (IBJ Photo/Susan Orr)
Heritage Trust members tapped into their institutional knowledge—and professional networking skills—to acquire the engines in the exhibit. They also spent many hours cleaning and repairing the engines to make them display-worthy.
A 1920s-era X4520 engine, for instance, was discovered in 2009 at an aviation museum in New England. The museum had acquired the engine but had not yet restored it, Newill said, and the aluminum behemoth was in bad shape after decades of poor storage and neglect.
"It was a really decrepit piece," Newill said. 
The X4520 is a rare piece because it never went into full production. It was intended for use in single-engine military bomber planes, but by the time it was ready for production, the single-engine bomber had fallen out of favor.
The new museum space isn't large enough to display everything at once, so items will rotate in and out over time. Digital displays will also get updates.
Heritage Trust members will also continue searching for new items to add to the collection.
"We're always out there pinging folks in the aviation world," Newill said.
The museum will be open from 10 a.m. to 3 p.m. Tuesdays through Fridays. Admission is free but donations are accepted.
Groups of six or more should arrange tours in advance by visiting www.rolls-royce.com/heritageindy. 
Please enable JavaScript to view this content.