This week, a film and theater star uses Indy as a test market, Shakespeare holds a rain-soaked mob, and a somber ISO plows
through a Beatles afternoon.
__________
I'm no producer, but I'm convinced that with a
show as funny as John Leguizamo's, he could have easily sold out the Murat or Clowes Hall.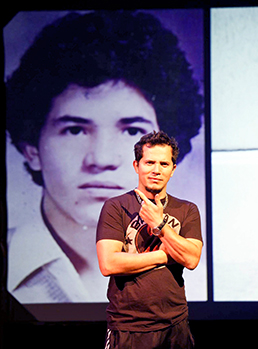 John Leguizamo tried out his latest
show—part play, part stand-up comedy, at the IRT. (Photo Courtesy Carol Rosseg)
But the actor known for
such films as "Moulin Rouge" and "Romeo + Juliet" had another agenda when he came to town July 31
and Aug. 1. Leguizamo is shaping his latest heading-for-New-York-and-probably-HBO show. And rather than take it to a bigger
auditorium, he performed it in front of a small-ish crowd at the Indiana Repertory Theatre July 31 and Aug. 1.
To
be clear, this as-yet-untitled show—in the tradition of his acclaimed "Freak" and "Sexoholix"—wasn't
straight stand-up. While the laughs were big and plentiful, Leguizamo's show did have a narrative arc, albeit loose,
to it. And beyond a stool, it also featured two large slide screens, controlled from the stage.
While "Freak"
covered much of his family life, this show is shaping up to focus more on the ups and downs, triumphs and bafflements of Leguizamo's
professional career. Big laughs were had from his sharp—and often biting—caricatures of such Hollywood familiars
as Al Pacino (whom he worked with on "Carlito's Way"), Robert De Niro ("The Fan"), and the "baked"
Harrison Ford ("Regarding Henry"). Kurt Russell and Steven Seagal ("Executive Decision") come across
particularly badly, but Leguizamo is more than willing to humiliate himself as well, as he does in stories about such fiascos
as "Super Mario Bros" (he was Luigi). For nearly 2-1/2 hours, he kept the audience caught up in such tales, offering
a kind of "Inside the Not-quite-star Actors Studio."
The downside, a small one, is Leguizamo's
tendency to resort to bumper-sticker familiar punch lines that cheapen some stories. And he hasn't yet found the optimal
balance of free-standing funny stories and narrative pull. The would-be cathartic conclusion also feels rushed.
But
that's what out-of-town tryouts are for. And I'm thrilled that he chose our town to do his trying.
__________
I had the pleasure on Aug. 1 of hosting the pre-show festivities for Heartland Actors Repertory Theatre's Shakespeare
in the Park production of "Much Ado About Nothing," which meant welcoming the crowd, introducing musicians Tim
Brickley and a student string quartet, offering up some trivia (so which planet has most of its satellites named for the Bard's
characters? Anybody?) and, most enjoyably, watching hundreds of people fill Celebration Amphitheatre at White River State
Park.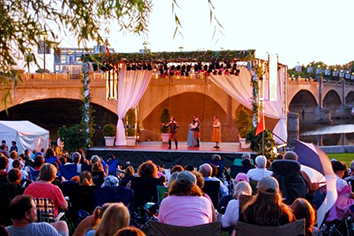 Heartland Actors Repertory Theatre brought free Shakespeare to White River State Park. (Photo Courtesy White River State
Park)
It was heartening to see blankets and chairs and coolers create a patchwork on the terraced hill, knowing this
wasn't for severely truncated or gimmicked-up Shakespeare, but for a just-about-full-length, fairly traditional treatment
of the play.
Shifting my role from emcee to audience member (who, I'm not ashamed to confess, had never seen
"Much Ado" beyond the lush Kenneth Branagh film version), I found myself quickly charmed by battling Beatrice
and Benedick and the efforts of their cronies to make a love connection between them.
The "Othello"-lite
plot line of the jealous rift created by Don John to separate swooning lovers Claudio and Hero also was presented with remarkable
clarity. I say "remarkable" because, at intermission, I heard a number of people remarking how surprised they
were to be understanding—and enjoying—the proceedings. Shakespeare doesn't seem so hard when you are in
the company of professionals.
Chris Hatch, as the enthusiastic Don Pedro, and Charles Goad, transforming from
welcoming host to intense betrayed father, were instrumental in forging those human connections between the company and audience.
I was less enamored with the supporting company, which largely seemed to be filling up space. As for Matthew Roland's
Dogberry, I was initially put off by his Python-esque delivery (I kept expecting him to demand … a shrubbery) but came
to appreciate his commitment to creating a rounded character out of Shakespeare's comic creation. If only others in
his showcase scene were so committed.
Sound problems that reportedly marred Friday night's presentation were
largely gone by Saturday. The White River melded beautifully with Lindsey Lyddan's simple stage design. And the rain
that doused the audience chased few away, mercifully kept the setting sun from blinding us, and helped elevate a good production
of a beautifully written silly comedy into the centerpiece of a warm and wonderful evening. Expect even bigger crowds next
year.
__________
Because of the above-mentioned two events, I missed the mob scene at Conner Prairie
that greeted the ISO and the faux-Beatles Classical Mystery Tour. I did, however, catch the coffee concert matinee July 31,
where the somber, scowling musicians were clearly still reeling from the news that their maestro, Mario Venzago, had been
de-batoned not 24 hours earlier.
The four lads did their best, but the (Ob-la-Di, Ob-la-Da) life-goes-on spirit
clearly wasn't in the half-filled house. • 
__________
Visit ibj.com/arts
for additional reviews, previews and arts discussion. Twitter: IBJarts
Please enable JavaScript to view this content.