The Indianapolis Colts recently signed a three-year sponsorship deal with Carmel-based James Allen Insurance Brokers to
become one of the primary sponsors at Lucas Oil Stadium.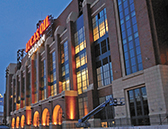 James Allen Insurance will have a big presence at Lucas Oil
Stadium. (IBJ File Photo)
Financial terms of the deal were not disclosed, but the insurance
agency will replace Chevrolet as one of the team's 14 founding partners at the 63,000-seat stadium.
The 14 founding partners activate their sponsorships with branded areas on the stadium's
main concourse. James Allen Insurance—formerly Performance Insurance Services—will brand
its area with signs and wall graphics. Interactive elements will be added later this year, company officials said.
"We always wanted a major presence in a venue in downtown Indianapolis," said James Allen Insurance CEO Tim
Craig. "This gives us another branding opportunity, and puts our name out there further to the insurance agencies and
business owners that use our company. We also underwrite policies directly to the public, so the exposure to fans is great,
too."
Also this off-season, the Colts signed a five-year deal with Toyota to replace Chevrolet as the official
car of the team. Chevrolet had been a Colts sponsor since the team moved to Indianapolis in 1984.
Chevrolet sponsored
the stadium's southwest corner, which included an interactive kiosk and a Colts-themed truck. Chevrolet exercised an
option to get out of its contract after the first season in the new facility, said Tom Zupancic, Colts vice president of sales
and marketing.
Toyota's deal includes vehicle displays outside the stadium and brand exposure in the seating
area and on the scoreboard.
The Hoosier Lottery will also ratchet up its presence in Lucas Oil Stadium after
the Colts this off-season agreed to a partnership deal that gave birth to a new scratch-off game. The specifics of the Lottery's
new presence are still being worked out.
Please enable JavaScript to view this content.