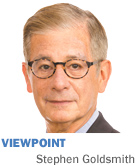 Given his background, it's not surprising that President Donald Trump gravitates to strong leaders. Many of his cabinet nominees served as either private-sector CEOs or military generals, executives with strong personalities and substantial experience at the top of large organizations.

Closer to home, Indiana Gov. Eric Holcomb has selected some top aides from the private sector, including Elaine Bedel at the Indiana Economic Development Corp.

Critics complain that the backgrounds of those individuals ipso facto disqualify them—that an ExxonMobil leader, because of the nature of that company's work in fossil fuels, should not be in a public position, or that a general would be too inclined to go to war. Although a person's experience certainly affects his or her perspective, it is both unfair and inaccurate to assume that prior leadership of another organization would prevent an appointee from delivering on the mission of a federal agency in a fair way.

Nor, however, should we assume that private-sector success translates automatically to governmental success. For many reasons, success in one sector does not necessarily predict success in another.

Local government and federal government differ, of course, but in my time as mayor of Indianapolis and deputy mayor for Michael Bloomberg in New York City, I observed both successful and not-so-successful efforts by private-sector leaders to reform government.

One of the best cases of getting this right was Mitch Daniels, a successful Eli Lilly and Co. executive who served at the federal level as director of the Office of Management and Budget and then governor of Indiana before assuming his current role as president of Purdue University. He started in public positions before going to the private sector, which broadened his approach. Daniels understood that it takes force to make a major change in a bureaucracy but also that change must be well-thought-out, presented in a convincing way, and developed with attention to major stakeholders. When I was elected mayor, my administration set out on a comprehensive effort to streamline government. We identified dozens of potential areas for reform, including outsourcing, and an outside advisory group led by Daniels helped organize the analysis and the public debate. Driving change transparently and with a strong, compelling message made that effort successful and ultimately saved Indianapolis taxpayers hundreds of millions of dollars.

In New York City, we recruited successful private-sector leaders to assist in leading and driving change in agencies. Those who succeeded brought ideas and technology from the private sector but understood the messiness of change in the public sector and were willing to work closely with more bureaucratic or political types on maneuvering their way through obstacles.

In government-reform efforts, the most difficult obstacle occurs when someone advises the executive leading change that the law or regulations won't allow that form of change. Often, these obstacles are perceived—more folklore than bright-line law—but some are, in fact, true barriers. A successful private-sector change agent succeeds best when he can depend on high-quality advice on how to maneuver through the thicket of government rules and layers of mid-managers.

A leader from another sector or totally different position such as the military can create disruptive change in government—disruption that is needed to produce significant reform. But the difference between mere disruption and true change is a fine line driven by savvy leaders, creative lawyers and a narrative that inspires. With these principles in mind, Trump's nominees might very well be able to leverage their backgrounds into public-sector success.•

__________

Goldsmith, a former Indianapolis mayor, is a professor of the practice of government and director of the Innovations in American Government Program at Harvard University's Kennedy School of Government.