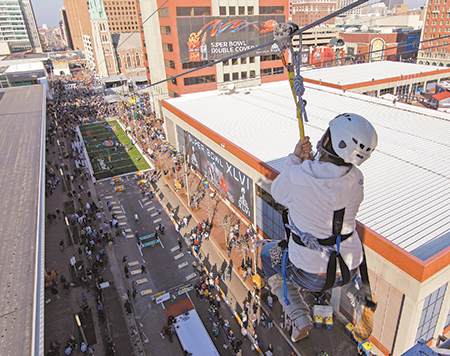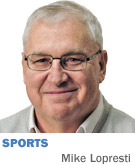 There was no shortage of games that first weekend in February of 2012.
Butler lost to Detroit Mercy at packed Hinkle Fieldhouse, even with 18 points by Andrew Smith. The Pacers were beaten by Orlando in Bankers Life Fieldhouse. Indiana, led by Victor Oladipo, smacked Purdue by 17 points in Mackey Arena.
Anything else going on that weekend in central Indiana? Oh, yeah.
They played Super Bowl XLVI at Lucas Oil Stadium. New York Giants over the New England Patriots 21-17, in case anyone's forgotten.
It's been five years? Really? Some things haven't changed. Bill Belichick and Tom Brady are still going to Super Bowls. The Colts just fired their general manager, same as then. Only in 2012, the coach went, too.
The echo of that week still carries, in different ways. A near-east-side legacy center and neighborhood revitalization. Georgia Street, a civic gathering spot that helped give the world the zip line. The continued breast cancer research from the tissue bank organized in conjunction with the Super Bowl. A track record of delivering, under high-stakes pressure, the city can claim when wooing other events.
"It was really the culmination of a vision going back to the late 1970s," said Ryan Vaughn, now president of Indiana Sports Corp., then chief of staff for Mayor Greg Ballard. "To climb to the top of that mountain and have it go so well was a pretty extraordinary experience. I think it exceeded everyone's expectations."
So did the weather. All that winter worrying, and the temperature hit 60 during the week. Mother Nature should still get roses every Feb. 5 from Indy.
And the bar was raised forever; an event is not really big unless it gets something slapped on the side of the JW Marriott.
Time to gather a few key people from then, for some favorite memories.
Allison Melangton, president of the Super Bowl host committee …
"When we opened Super Bowl Village and the NFL Experience on Friday, Jan. 27, we came out in front of the Convention Center and we opened the zip line. We had thousands of volunteers there. The sun was out. I took a deep breath and looked around and thought, 'Four years of hard work by a whole community.' It was just like a moment frozen in time."
Ballard …
"We were in the village, both me and Gov. Daniels. I think it was probably Wednesday, and you couldn't go past a certain point, it was so crowded. People all wanted a picture. I had a lot of that, so I couldn't move because I was getting my picture taken. Not of me necessarily; they just wanted a happy moment.
"I actually went out to the airport on Monday when people were flying out just to say goodbye and ask them how they enjoyed it. First of all, they couldn't believe I was out there doing it. Second thing, once I convinced them I really wanted to talk to them and see how things went, it was an unbelievably positive response. That was very refreshing."
Lucas Oil Stadium Director Mike Fox …
"Frank Supovitz was the NFL person in charge of the Super Bowl. At halftime, he and I were standing in the press box getting ready to watch the Madonna performance. We had seen rehearsals a dozen times, so the show was nothing new for us. However, we had not witnessed the show with 70,000 fans, each with glow sticks. When I saw the lights go down and the glow sticks light up, the hair on the back of my neck stood up and I said to Frank, 'Indianapolis is really hosting a Super Bowl.' His response was, 'As long as the lights come back up, it might be the best Super Bowl we've ever had.' And yes, the lights came back up. I still get chills thinking about that."
Vaughn …
"Watching my wife upside down on the zip line while Georgia Street was packed with Hoosiers from all over the state. That was a civic-pride moment for me. We knew we had delivered on the goal of getting the entire state and community involved in the event."
DirecTV turned Victory Field into a host for the Celebrity Beach Bowl, a Saturday night bash co-hosted by Mark Cuban with Katy Perry performing, and the Patriots' post-game party.
Indianapolis Indians President Randy Lewandowski …
"DirecTV came in here on Jan. 5 or 6, and probably didn't leave until March 1. They set up about a 65,000-square-foot—we called it a tent. We had told DirectTV, 'You can't get on the infield. That's our baby.' They used every other square foot that they could, and basically took over our building for two months. There was a 24-hour shift, just trucking in sand.
"They had so many people in there for the Patriots' party, we almost got shut down by the fire marshal. The party didn't have much air in it at the beginning, but it got a little wild at the end, even though it was a losing party.
"The hours our staff put in were just crazy. The Super Bowl, I saw one play. I don't remember what play it was."
Is Indianapolis better five years later, because of a football game? The Super Bowl can't and won't cure all a city's ills, but it can get a place thinking big and dreaming bigger. Maybe that is the most lasting legacy from 2012.
Ballard: "I think the rise in awareness of our own citizens of where we stack up with other cities around the nation was really important."
Melangton: "If I had to give one sentence, it's that truly remarkable things can happen in a community when everyone is on the same page."
Fox: "Absolutely no event that came to town since, or comes in the future, will push us and be more demanding. If we can host the Super Bowl, we can do anything."
And Indianapolis did. Five years ago this week.•
__________
Lopresti is a lifelong resident of Richmond and a graduate of Ball State University. He was a columnist for USA Today and Gannett newspapers for 31 years; he covered 34 Final Fours, 30 Super Bowls, 32 World Series and 16 Olympics. His column appears weekly. He can be reached at [email protected]
Please enable JavaScript to view this content.