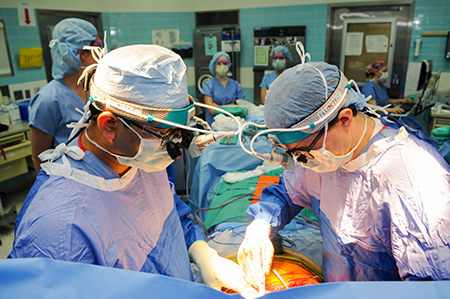 The calls come in the middle of the night, on weekends, during snowstorms, in every kind of messy, unpredictable situation.
Someone has died in a car crash or from a stroke. Suddenly, a heart, liver, lungs, kidneys, pancreas and intestines are available for transplanting into needy patients.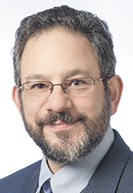 Fridell
"We all work in the middle of the night. We work when we don't want to," said Dr. Jonathan Fridell, chief of abdominal transplantation at Indiana University Health.
For transplant hospitals in Indiana and around the country, business is booming these days—driven up, in part, by the federal government, which is aggressively asking its sprawling network of organ procurement organizations to do a better job identifying available organs from dying patients and obtaining authorization from next of kin.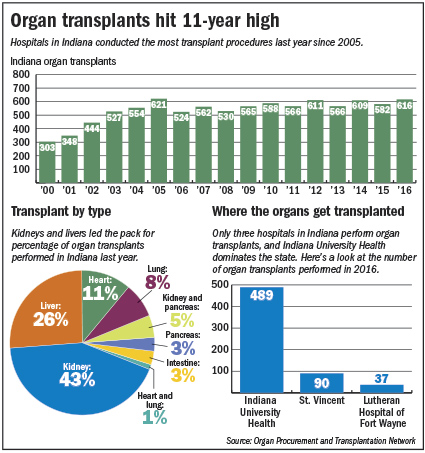 Hospital systems are responding by adding staff, scheduling more procedures and opening clinics around the state to evaluate patients hoping to get onto an organ waiting list.
The number of transplants performed in Indiana last year hit an 11-year high, up about 6 percent from a year before, according to the Organ Procurement and Transplantation Network. Nationally, the number of transplants performed reached an all-time high, up nearly 20 percent over the past five years.
The hospital transplant centers are scrambling to save lives, and at the same time, are competing aggressively for business in one of the most prestigious and high-revenue fields of medicine.
Organ transplants are big business. A hospital bill for a liver transplant can cost more than $700,000, and a heart transplant can cost $1.2 million, according to a 2014 report by Milliman, an independent research firm.
And perhaps more than any other hospital service, an organ transplant program depends on high volumes and market share to offset huge fixed costs. The cost of staffing and equipping a transplant center is enormous, and the logistics involved in procuring organs is daunting.
"Since transplant centers must perform transplantation procedures at rates high enough to meet their fixed costs, and seek incremental profits with each additional transplant, each center must maximize measures that preserve their market share," according to an article in the International Journal of Organ Transplantation Medicine in 2015.
Translation: Volume is king.
In Indiana, there's little doubt about which transplant program dominates the market. Only three hospital systems provide organ transplants: IU Health and St. Vincent, both in Indianapolis, and Lutheran Hospital of Fort Wayne.
Of the three, IU Health is the runaway leader in market share. Last year, transplant surgeons there completed 489 transplants—nearly four times as many as the two other hospitals combined.
That made IU Health the seventh-largest program in the country, behind such huge institutions as Cleveland Clinic, the Mayo Clinic and the University of California at Los Angeles Medical Center.
By comparison, St. Vincent performed 90 transplants and Lutheran Hospital did 37.
Even so, IU Health is not standing still. In recent months, it has recruited more transplant surgeons and nurses. It said it has not lost a transplant surgeon since the departure last April of its transplant director, Dr. Joseph Tector, who built the program into one of the nation's largest, only to leave for the University of Alabama at Birmingham in a surprise move.
After he left, Tector blasted IU Health, saying it wanted its physicians to "function as robots" and ring up revenue, rather than focus on patient care and transplant research.
The departure caused a temporary uproar at the system. But a year later, IU Health officials say the transplant program is on even footing.
"I think the program is stable," Fridell said. "There has been some solid growth in some areas. I think we have more opportunities for growth."
Reaching out to patients
Helping fuel that growth are small clinics IU Health has opened over the years in South Bend, Evansville, Lafayette, Fort Wayne and Merrillville, where surgeons from Indianapolis travel to evaluate patients who are considering a transplant.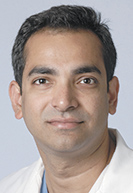 Kubal
IU Health uses the clinics as a way to woo patients in far-flung corners of Indiana who might be considering getting their transplant done in another state.
"Sometimes, patients find it easier to go to Chicago or St. Louis or Kentucky," said Dr. Shekhar Kubal, IU Health's surgical director of adult liver transplantation. "So perhaps it makes sense for us to have clinics in Fort Wayne and elsewhere and we go physically to see patients there."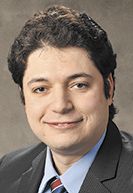 Ghoneim
St. Vincent, too, has opened small clinics in Merrillville and Richmond in the past two years. One big goal is to help patients determine whether they are a good candidate for a transplant, based on their age and medical condition, said Dr. Islam Ghoneim, a kidney transplant surgeon at St. Vincent.
"It's definitely helped," he said. "A lot of patients—especially those who are skeptical about their candidacy—will find it easier to go to a nearby location, rather than travel all the way to Indianapolis."
The two Indianapolis hospitals have been fierce competitors for years, and that rivalry has heated up lately as the two systems have built up larger networks of hospitals and clinics around the state.
Their rivalry extends to the transplant program. While IU Health is the market leader, there's a case to be made that St. Vincent performed better medically.
According to the Scientific Registry of Transplant Recipients, St. Vincent rated five out of five ("better than expected") in outcome assessments for organ transplants, while IU Health rated three out of five ("as expected") and Lutheran Hospital scored just one out of five ("worse than expected").
The ratings evaluate how often patients are alive with a functioning transplanted organ one year after the transplant. The scores take into account the health of the patients and the condition of the donated organ. The registry is an online, national index of organ transplants operated for the U.S. Department of Health and Human Services.
"Patients don't have to take my word for our quality," Ghoneim said. "They can go online to this registry and see the outcome ratings for transplant programs, and decide for themselves."
IU acknowledged the ratings but said it offers transplants to patients with complex medical conditions and has an impressive survival rate of 97 percent after one year.
Driving the growth
The federal government's stepped-up efforts to procure more organs is just one of the factors fueling the transplant boom.
Also driving the growth is a determination by transplant centers to use organs they might have rejected in the past, particularly if they came from extremely sick or elderly donors. Transplant centers defend the use by saying livers or kidneys that might otherwise be thrown out could be suitable for some patients.
Another key factor is the rising number of people who have agreed to become organ donors.
Last year, the number of people who donated organs rose 9.2 percent, according to the United Network for Organ Sharing.
Increasingly, people are seeing the virtue of donating their organs, rather than taking them to the grave, said KellieHanner, CEO of the Indiana Donor Network, which serves 86 out of 92 counties in Indiana, and helps hospitals procure organs for transplantation.
More than 3.7 million Hoosiers are registered as organ donors, up from 2.8 million in 2006.
"There definitely has been a lot more education about the need for organ donations, not just in Indiana, but nationwide," Hanner said.
Even though more people are donating organs, demand still is outpacing supply. Thousands of patients who need organs often wait three years or longer, and many die before a suitable organ is found.
So donor networks are pushing the message that donations save lives. In Indiana, one strategy is to team up with sports teams, from the Indy Eleven soccer team to the South Bend Cubs baseball team, and sign up fans at the games for organ-donation registries.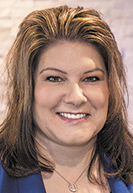 Hanner
In one particularly high-profile move, the Indiana Donor Network last year partnered with the IndyCar Series to commemorate IndyCar driver Justin Wilson, who died in a crash in 2015 after being struck in the head by debris from another driver's car at Pocono Raceway in Pennsylvania. Wilson was an organ donor who helped save the lives of five patients around the country.
In a similar move, the Indiana Donor Network is now teaming with Clauson-Marshall Racing to push a message as a legacy for driver Bryan Clauson. He died after a crash at Belleville High-Banks Speedway in Kansas. Like Wilson, Clauson was an organ donor who helped five patients in need after his death.
As a result of both events, thousands more people registered to become organ donors.
"We're always doing something to spread the message," Hanner said.
Patients who have undergone a transplant are eager to see more patients share their good fortune.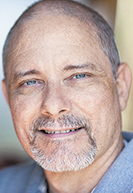 Lewis
Lance Lewis, 59, of Indianapolis had a double lung transplant six years ago. At the time, he was on the waiting list for nearly two years.
He wound up getting the lungs of Indianapolis police officer David Moore, who died from gunshot wounds during a traffic stop.
"I was lucky," Lewis said. "Too many people die waiting for an organ that never shows up. There's always going to be a shortage of organs. But the more people who donate, the better for everyone."•
 
Please enable JavaScript to view this content.