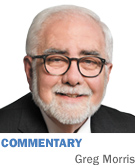 I spent some time recently with Charles Hyde, president and CEO of the Benjamin Harrison Presidential Site. Being a bit of a history buff and a lifelong student of government and politics, I found the time spent with Hyde fascinating.

The Benjamin Harrison Presidential Site, at 1230 N. Delaware St., is dedicated to maintaining and preserving the president's home as a museum and memorial to Indiana's only elected president. You'll find Harrison's 1875 mansion beautifully restored, along with a huge collection of artifacts.

Harrison was our nation's 23rd president and served from 1889 to 1893. While born and schooled in Ohio, Harrison married and moved to Indianapolis in 1854. He established a law practice and was elected city attorney and then Supreme Court reporter. Harrison and his wife, Caroline, had two children. Shortly after his election as Supreme Court reporter, the Civil War called and Harrison served a distinguished tour of military duty.

After the Civil War, Harrison returned to Indianapolis and re-established his law practice while resuming his elected duties. The Harrisons built their Indianapolis home in 1875 and, except for the years he spent in Washington, D.C., Harrison lived in it until his death in 1901.

Benjamin Harrison's legacies as president include passage of the Sherman Antitrust Act, expansion of the U.S. Navy, being a staunch defender of African-American rights, and his role as a conservation pioneer, among many other accomplishments.

There's a timely story in the January-April, 2017, issue of "The Statesman," the Presidential Site's in-house publication, called "A Tale of Two Elections: Civility as a Strength." Here's a version of the article edited for space:

"In the history of our great country there have only been two presidents who met each other in the ring for two separate elections: Benjamin Harrison and Grover Cleveland. They were to experience the best and worst of times—each discovering what it was to win and lose against each other. Their elections in 1888 and 1892 were no easy contests, and were sharply waged by the parties and partisans of their time. But their experiences stand in sharp contrast to modern presidential elections. Humility was seen as a qualification for the presidency in the 19th century, and eagerness for the office a disqualification.

"In 1888, Harrison won the electoral vote, and Cleveland the popular vote, but Harrison was the clear winner." (Cleveland was the incumbent.) "Although the electoral college was at odds with the popular vote in a close race, both candidates remained silent. They let the pundits and scholars argue about the future of the voting system."

And so there was a peaceful transition of power on Inauguration Day, with Cleveland being gracious to Harrison. The two men rode together in an open horse-drawn carriage to the Capitol and walked arm-in-arm to the platform. It was a rainy day, and a photo shows Cleveland holding an umbrella over Harrison during the inaugural address.

Four years later, Harrison and Cleveland ran against each other again, in 1892—a unique election with both men having lived in the White House.

The article continues:

"But it was complicated by shifting public opinion and first lady Caroline Harrison's lingering illness and untimely death. Under the circumstances, President Harrison refused to campaign for himself and Cleveland curtailed his public appearances out of respect."

(Harrison lost this time out, but like Cleveland four years prior, was gracious in defeat.)

"Once again, the same two men rode in an open carriage to the Capitol and then walked out on the platform arm-in-arm.

"Although they shared a display of civility and mutual respect, the outward relationship belied some stark differences in political philosophy and policy. But Cleveland and Harrison were able to transcend these disagreements by showing courtesy to each other as statesmen. Their differences made them political foes, but there was a place and a time for argument and compromise.

"Civility was not just a fashion to be worn in public, but a vital tradition Harrison and Cleveland were willing to embody to ensure a smooth transition of power and the preservation of the republic."

If you're tired of watching the madness in Washington today on TV, you might consider gathering family and friends together and paying a visit to the Benjamin Harrison Presidential Site. I believe you'll find the visit educational and worth the trip.

In addition to a visit, you can find more information and make a donation on the website PresidentBenjaminHarrison.org.•

__________

Morris is publisher of IBJ. His column appears every other week. To comment on this column, send email to gmorris@ibj.com.