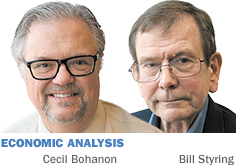 Building a wall across our southern border was central to President Donald Trump's campaign. After reaffirming his promise to build the beautiful wall, then-candidate Trump would rhetorically ask, "And who's gonna pay for it?" "Mexico!" the crowd would roar.  
The only problem with campaign promises is that, if you're elected, some naive souls might actually expect you to keep them. Trump certainly isn't backing down. He has dug in deeper, recently declaring, "I have said many times, the American people will not pay for the wall."
How do we make Mexico pay for the wall? "Mexico" is a nation-state abstraction. Economists insist all costs are borne by people, not legal entities called countries or corporations. So, how do we make Mexican citizens bear the cost?
The first idea floated was a 20 percent tax on American imports from Mexico. All sorts of calculations were trotted out about how 20 percent times the value of Mexican exports to the United States would raise the necessary $14 billion to $16 billion. The unspoken assumption is that a tax on Mexican exports is obviously "paid by Mexico."
We haven't checked, but our confident bet is that economists of all stripes recoiled in horror at this notion. Surely the president must have a good economist somewhere around him who pointed out that such a tax will raise U.S. consumer prices of Mexican imports. Most of the incidence of such a tax would be on American consumers. It's a bad negotiating tactic to point a gun at your own family (citizens) and say to your negotiation adversary (Mexican officials), "One step closer and I'll shoot!"
To be sure, higher U.S. prices would also mean that sales of goods exported by Mexico would fall, and this would cost Mexican jobs and incomes. But unemployed Mexicans don't contribute toward the cost of a wall.
There probably is no way to make Mexican citizens bear the wall costs, short of the Mexican government's levying direct taxes on Mexican citizens. You don't have to be much of a student of world affairs to guess that no Mexican president would last 10 seconds were he to seriously propose this.
Trump needs some fig leaf to make it look like "Mexico" is paying for the wall without shoving Mexico into the arms of anti-Yanquis. There really isn't one. If we can dream one up, we'll let him know.•
__________
Bohanon is a professor of economics at Ball State University. Styring is an economist and independent researcher. Both also blog at INforefront.com. Send comments to [email protected]
Please enable JavaScript to view this content.