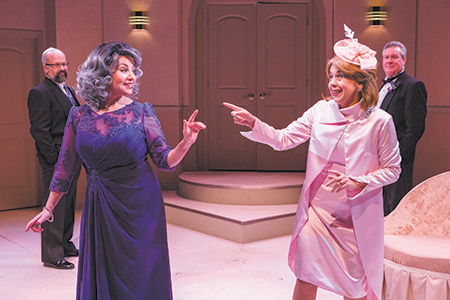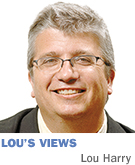 The basic premise of "It Shoulda Been You" is low-key—even retro: Trials, tribulations and wacky complications arise on the wedding day of a Jewish woman and a gentile gent.
But the musical, being given its Indiana premiere at the Studio Theater through Feb. 12 courtesy of Actors Theatre of Indiana, is more than just a throwback lark. Yes, it's loaded with cliches. Yes, you can see some of the punch lines coming from the next pew. But, at its best, "Shoulda" is more than kinda good. And while I woulda preferred a few less obvious moments, it still had a couple of progressive tricks up its tux sleeves.
Fully explaining those tricks would require spoilers, something I resist whenever possible.
Instead, I coulda written that ATI has pulled together a solid cast, with stand-out work from Judy Fitzgerald as the mother of the bride, Bill Book as the father of the groom, and John Vessels as the wedding planner, each adding subtle touches to what could be one-note characters. I coulda added that Fitzgerald's hair deserves its own bio in the program.
Or I coulda picked apart the workmanlike songs or speculate as to why the number for the best man and maid of honor comes out of nowhere and shoulda stayed there. And I coulda marveled at how the writers and this production manage to get the audience to ignore some of the horrific parental action in the first act in order to get to the show's chummy conclusion.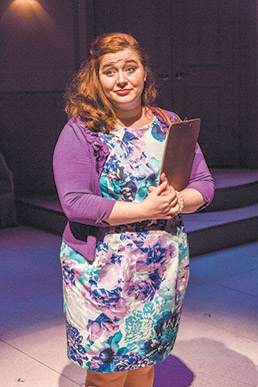 Karaline Feller is the long-suffering sister of the bride. (Photo courtesy of Zach Rosing)
As did fans of the Broadway production, I also coulda sung the praises of the fact that, at the center of "It Shoulda Been You" is the plus-size (yes, I hate that term, too) sister of the bride who gets to sing out what too many people have felt about being overlooked and dismissed for not falling into society's definition of attractiveness norms.
Well, I sorta did all that already. So, instead, let's look at the bigger picture.
A few generations ago, Broadway audiences were more generous toward good-enough shows like this one that weren't spawned from movies and didn't have marketable gimmicks. Blame high ticket prices. Blame the increasing dominance of other media. Whatever the case, for-profit Broadway theater doesn't have much use for such material these days. An even stronger, more moving wedding-themed musical, "A Catered Affair," has hardly been heard from since it closed in 2008, just a few months after it opened.
Like "A Catered Affair," "It Shoulda Been You" lasted just a few months in New York in 2015—star Tyne Daly surely gets some of the credit for its surviving that long. But it didn't engender high name recognition (to be fair, the name is only slightly better than, say, "Bride and Goy") and it didn't launch a national tour.
But that doesn't mean it should be dismissed. The arts—even the arts looking for a wide commercial audience—shouldn't be thought of as pass/fail. And Broadway success or lack of it shouldn't be a measure of the relative worth of a show.
In my experience, New York Broadway audiences aren't smarter or more sophisticated than regional theater crowds. But expectations change when ticket prices rise well over $100 and when surrounding theaters are filled with flashier offerings. That's a brutal environment in which to try to get attention for a small show. But "It Shoulda Been You" can—and, as demonstrated here, does—work in the right space and with the right company.
Plus, there's a chance that the underlying messages of "It Shoulda Been You"—and, again, I'm dodging spoilers—will have a greater impact on a more conservative, suburban Indiana theater crowd. This mighta been its ideal home all along.•
__________
This column appears weekly. Send information on upcoming arts and entertainment events to lharry@ibj.com.
Please enable JavaScript to view this content.