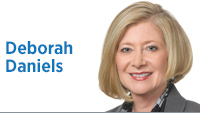 There are many reasons to applaud the early days of Gov. Eric Holcomb's tenure. It's clear he is focused on the things Hoosiers need, including job development, creating a ready workforce for the jobs we have and hope to attract, and our significant infrastructure needs.

All this might be expected from anyone elected governor in these times. But Holcomb has announced another initiative that is long overdue and holds the hope of broad benefit for Hoosiers throughout the state.

In one of his first pronouncements, the governor appointed Jim McClelland, the compassionate, savvy and strategic former Goodwill CEO, to manage the state's prevention, enforcement and treatment policies relating to drug abuse. McClelland's role is to coordinate, align and focus the resources of state government for greatest impact on the opioid crisis.

McClelland will focus on reducing the number of deaths from overdoses, expanding access to evidence-based treatment for those who are addicted, and reducing exposure of Hoosiers to opioids. He will approach the problem as both a public health issue and, as to suppliers of illegal drugs, a law enforcement issue.

As the governor pointed out in his State of the State address: "This epidemic causes ripple effects with devastating impacts on our children and families … our health care system … and our economy." The health care concern is real and staggering. In addition to multiple overdose deaths, the widespread use of heroin in communities throughout the state and the sharing of dirty needles by addicts have caused an explosion of hepatitis C and HIV/AIDS.

McClelland's appointment is more significant than it might sound and his task is more difficult than it might appear. Nine state agencies have responsibilities for dealing with Indiana's opioid crisis. There are 91 county prosecutors, more probation departments and myriad judges who have jurisdiction over drug users and traffickers. That's a lot of strong-willed, overworked people, often with conflicting views of the right path, sometimes uninformed by science. There is little interface between the judicial, hospital and public health systems.

The Indiana Criminal Justice Institute awards grants to agencies throughout the state that, if not properly coordinated, might have only minimal impact. The funding streams from ICJI and other agencies must be coordinated. Local communities have little guidance in terms of the best ways to combat the heroin problem plaguing their citizens. Finally, we suffer from a severe shortage of treatment providers, who will be critical to the state's ability to solve this problem.

Holcomb supports a bill easing restrictions on the state's needle-exchange program to give counties more flexibility for immediate response. The bill has passed the House, though with opposition from some who fear it will encourage drug use. In fact, nearly 20 years of research indicates that such programs do reduce disease, do not lead to increased drug use, and likely encourage addicts to obtain treatment.

How do we pay for treatment? Another bill proposes funding for additional providers. And Congress recently passed the 21st Century Cures Act, which includes $1 billion over two years for opioid treatment. Members of the Indiana delegation, in particular Reps. Larry Bucshon and Susan Brooks, were strong proponents of the legislation.

Both the public and private sectors will need to collaborate in order to make even a dent in the problem. Fortunately, if anyone can figure out a way to coordinate disparate resources meaningfully and effectively, it's Jim McClelland. Let's all hope he succeeds.•

__________

Daniels, managing partner of Krieg DeVault LLP, is a former U.S. attorney, assistant U.S. attorney general, and president of the Sagamore Institute. Send comments to ibjedit@ibj.com.