The puzzle pieces for Indianapolis' new criminal justice center began coming together last week with the announcement that a new jail and assessment center would be proposed on the site of former Citizens Gas and Coke Utility plant.
But a key piece remains missing — a decision on whether courts are part of the picture for the new complex in the Twin Aire neighborhood, about three miles southeast of downtown Indianapolis. Judges will make that decision by May 1, but some have signaled a preference for moving at least criminal courts from the City-County Building to the complex.
Marion County Sheriff John Layton hopes courts decide to move to the site.
"It would pretty much be a transportation nightmare" if courts stayed in the core of downtown and the jail was in Twin Aire, Layton said. "I've spoken to a couple of criminal court judges and they're ready to go. … We'll listen to every opinion. But I can't help be excited."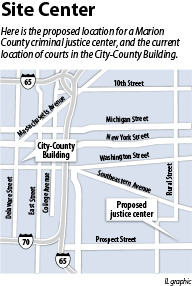 Dozens of city, county, neighborhood and social services representatives gathered in the bracing cold Jan. 31 for Mayor Joe Hogsett's site-selection announcement. The selection is "placing this neighborhood in the center of discussions about how we transform criminal justice and set an example for the nation," said District 12 Indianapolis City-County Councilor Blake Johnson.
Hogsett announced in December the intent to build a criminal justice center with assessment and treatment for mental illness and substance abuse as its centerpiece. "What we will build here will change more than lives. It will change the very life and the very history of this part of our community."
It could mean big changes for judges and lawyers who practice in Marion County courts, too. The day before Hogsett's announcement, a working group of judges formed to recommend whether courts should flock to the new justice center, Marion Superior Criminal Division 8 Judge Amy Jones said. Jones co-chairs the group with Marion Superior Criminal Division 6 Judge Mark Stoner, and said the group held its first meeting three days after Hogsett's announcement.
"Now that we know the site location, we're beginning work on our end. But we're excited about the prospects and want to make sure we make the right decision," Jones said. "We're on an aggressive timeline to make a decision by May 1. There are a lot of moving parts to consider."
Stoner said the justice center marked a rare opportunity for the court to shape its operations. "Do we want a wraparound family court? Do we want combined juvenile and adult services? We've never been able to do these kinds of things because we've always been limited by our facilities. So this gives us an opportunity to say, 'OK, we don't have facilities yet, so let's design it for what we want to do as a court system, and then build the facilities to match it.' It's a tremendous opportunity."
Stoner didn't believe keeping courts downtown would create the transportation nightmare Layton feared, but he added, "Certainly, I think having a jail separate from courts is not an ideal situation."
Marion Superior Criminal Division 4 Judge Lisa Borges said, "Obviously, there are some good points to a move. The building we're in is an old building with some challenges, so we're supportive of the efforts that are being made for efficiencies and for the safety of the community."
Indianapolis Bar Association President Nissa Ricafort said the local bar stands ready to help judges assess the possibilities and will support the decision that ultimately will come from the Marion Superior Executive Committee with the judges' input.
"Our members are most concerned about location and trying to be as centrally located as possible, and technology," Ricafort said. "If the judges can make it work, I think our members will be very supportive. But on the other hand, we've had enough discussions with the judges to know there are a lot of technicalities and processes for them to work through."
No anticipated cost of the complex has been announced, but the price tag is expected to be at least $500 million. It also remains unclear, for instance, whether juvenile justice, prosecutor, public defender and other criminal justice functions will be included in the development. The city estimates annual savings of $35 million from efficiencies that would be gained in rent, contracted services and other costs that would be eliminated through construction of a complex.
According to the criminal justice reform task force, a cost estimate will be released by Feb. 28. A finance and construction plan is scheduled to be announced March 31. The task force timeline proposes bid letting in July with a bid selection and proposal submitted for the City-County Council's consideration by Jan. 1, 2018.
"I understand this site carries with it its share of challenges. But in rising to those challenges, I am convinced that our whole city will be the better for it," Hogsett said in announcing the site selection. "No matter the challenges, be it poverty, be it crime, be it neighborhood decline, let us overcome them all as one city."
"Today is a good day for the future of our city," Health and Hospital Corp. President and CEO Matt Gutwein said at the announcement. He said people who encounter the criminal justice system would benefit from the reforms envisioned, starting with assessments for substance abuse and mental health issues.
"We have the unique opportunity right now to improve the safety of our community, improve the lives of neighbors who suffer from mental health and addiction, revitalize our neighborhoods, and at the same time save taxpayers money," Gutwein said. "This is an example where really smart public policy meets with compassion, meets with good economics, and that's a good result."
Layton said the criminal justice reform plan holds the promise of reducing crime and turning around lives and communities. "I've been down at the old jail for 44 years. It's tough," he said. "And it's not conducive to 2017. It's just not what we need. It was OK in the '60s, but come on. We need to pony up here, and put together a facility that the citizens of Marion County can be proud of."
Key recommendations from the task force, which conducted 10 community meetings on the proposed criminal justice center, include:
• build a new 2,600-3,000-bed jail that includes an assessment and intervention center with health, addiction and social services components;
• give Indianapolis Metropolitan Police Department officers, social service providers and criminal justice facilities a pre-arrest diversion toolbox to assess offenders in need of treatment and social services; and,
• increase transparency and accountability between the community and the criminal justice system.•
Please enable JavaScript to view this content.