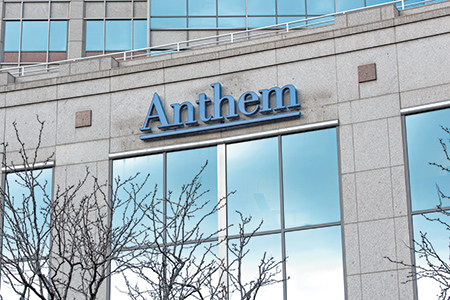 Anthem Inc.'s $48 billion deal to buy Cigna Corp. was blocked by a federal judge on Wednesday, derailing the second of two massive mergers that were set to reshape the U.S. health care landscape.
The transaction violates antitrust laws by reducing competition among insurers, U.S. District Judge Amy Berman Jackson in Washington ruled. Under the terms of the agreement the insurers reached in July 2015, the defeat could force Indianapolis-based Anthem to pay Connecticut-based Cigna a $1.85 billion breakup fee.
The deal, along with Connecticut-based Aetna Inc.'s proposed tie-up with Louisville-based Humana Inc., which was blocked last month, was set to reduce the ranks of big U.S. health insurers to three from five and made Anthem the largest by membership.
While the Aetna-Humana case primarily focused on the market for private health insurance plans for the elderly, known as Medicare Advantage, the Anthem-Cigna case largely turned on the market for health plans sold to employers. In her ruling, the judge looked at its likely effect on the sale of health insurance to "national accounts"—customers with more than 5,000 employees, usually spread over at least two states—within the 14 states where Anthem operates as the Blue Cross Blue Shield licensee.
"Eliminating this competition from the marketplace would diminish the opportunity for the firms' ideas to be tested and refined, when this is just the sort of innovation the antitrust rules are supposed to foster," Berman Jackson said in her 12-page order. The judge's accompanying opinion fully detailing her reasons for ruling against the deal was filed under seal.
Matthew Asensio, a spokesman for Cigna, and Jill Becher, a spokeswoman for Anthem, didn't immediately respond to requests for comment on the decision. The U.S. Justice Department's press office didn't immediately respond to an email seeking comment after regular business hours..
It wasn't immediately clear whether Anthem and Cigna would appeal. Humana and Aetna have said they are evaluating whether to appeal the order in their case.
Analysts had long doubted that the Anthem-Cigna deal could pass antitrust scrutiny, and Cigna's stock had been trading far below Anthem's cash-and-stock offer.
With the mega-mergers, the four insurers would face a more challenging landscape than they did when they reached their deals just weeks apart in 2015. The Affordable Care Act, which expanded the market for Medicaid health plans and for coverage sold to individuals, is under threat as President Donald Trump and Republicans in Congress are moving to replace the law. While the law hasn't been a big driver of growth for any of the firms, its demise could cut off a source of growth at a time when they're looking for ways to expand.
The four firms would be left with capital they still would want to put to work, raising the prospect of another round of deal-making.
Cigna CEO David Cordani would get a new chance to shape his company's path. He has estimated that Cigna would have $7 billion to $14 billion of deployable capital by mid-2017 if the purchase wasn't completed. The high end of that range includes extra debt the company could take on if it decided to make acquisitions, Cordani has said. The funds could also be used to pay dividends and buy back stock.
"We have a track record of being very disciplined relative to our capital priorities and not allowing surplus capital to sit around," he said on Jan. 11.
Anthem also has said it would pursue deals and buybacks as its "Plan B" if the Cigna transaction doesn't go through. CEO Joseph Swedish has said he might attempt to expand in the Medicare Advantage market through acquisitions, for example.
Anthem's agreement to buy Cigna came on July 24, 2015, three weeks after Aetna's deal for Humana. Anthem agreed to pay Cigna shareholders $104.30 in cash and 0.5152 Anthem share for each Cigna share.
The 18-month effort to get the deal done was marked by discord between Anthem and Cigna. Last year, the companies accused each other of violating the merger agreement, and the government said in court that disputes among executives had undercut the rationale for the deal.
The hostility could continue. Anthem wouldn't have to pay the breakup fee if it could prove that Cigna committed a "willful breach" of the merger agreement.
The ruling is another victory for antitrust enforcement under the Obama administration, after a different judge blocked Aetna's $37 billion bid for Humana on Jan. 23. The Obama Justice Department thwarted several mega-mergers, including Comcast Corp.'s attempted takeover of Time Warner Cable Inc., Halliburton Co.'s deal for Baker Hughes Inc. and AT&T Inc.'s bid for T-Mobile US Inc.
The Trump administration is now taking over investigations into AT&T's deal for Time Warner Inc., the merger of Dow Chemical Co. and DuPont Co. and Bayer AG's combination with Monsanto Co.
Please enable JavaScript to view this content.