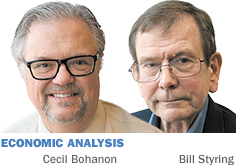 Airbnb is causing Carmel and other Indiana communities to test the limits of property rights. For those who might not know, Airbnb is an Internet site that links homeowners who have space to rent with potential short-term visitors.
How should such a mutually agreed upon transaction be regulated? Does a homeowner's right to peaceably use his property Airbnb-style even need regulating? This is no minor question. Clear and enforceable property rights are at the core of any prosperous and free economy.
One of our favorite property-rights scholars, A.M. Honore, once posed a humble question. What does it mean to own an umbrella? To paraphrase his answer: Owning an umbrella means you may use it, lease it, lend it, sell it or leave it by will, but you may not use it to poke me in the ribs or knock over my vase.
So where's the "poke in the ribs" from Airbnb?
One complaint is that these are dwellings zoned residential. But zoning is just a means to an end. The end is peaceable enjoyment of your home free from offensive behavior next door. Sure, an Airbnb guest might be irritatingly noisy and boisterous. So might your neighbor's loudmouth brother-in-law here on a three-day visit. The harm is your irritation from the bad behavior. Money changing hands is not a "poke in the ribs." The remedy is not to proscribe Airbnb. Carmel has asked participants to rezone their property. We'll see whether this is a genuine attempt to sort things out or a ruse to shut down Airbnb entirely.
Airbnb does clearly "poke the ribs" of local hotels. This is the tack taken by Carmel Building Commissioner Jim Blanchard. In a cease-and-desist letter to Carmel homeowner Airbnb participants, he wrote, "…our local hotels must invest a lot of money to meet the requirements of their zoning … we don't believe it is fair to our hotels to allow someone to operate a competing business when they are not held to the same higher standard of construction."
Yes, Airbnb rentals compete with local hotels, and no business likes competition. Municipalities do have broad latitude to regulate business. Historically, protecting incumbent businesses from upstart competition has proved unwise and ultimately an exercise in Canute-like tide stemming. Airbnb's technology has unlocked an otherwise wasted asset—unused residential space. It's in the interest of us all not to undermine property rights.•
__________
Bohanon is a professor of economics at Ball State University. Styring is an economist and independent researcher. Both also blog at INforefront.com. Send comments to [email protected]
Please enable JavaScript to view this content.