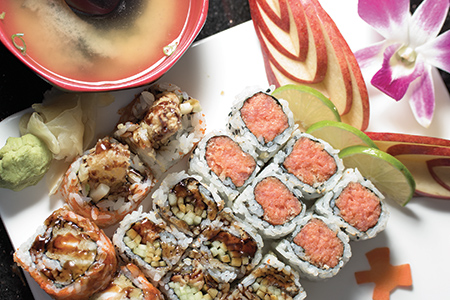 Given the dearth of inexpensive sit-down Chinese and Japanese eateries downtown, I held out some hope when Asian Harbor (203 W. Michigan St., 317-426-9758) opened in Axis, the apartment building that also houses a Marsh grocery store.
The outside doesn't look like much, but the unexceptional exterior hides a comfortable bar and restaurant where friendly service, nice presentation and fair prices cover for—for the most part—adequate food.
Let's look at the bargain side, first. Asian Harbor offers 22 lunch combinations for $5.95, all of which include Chicken Fried Rice and your choice of soup, soda or Egg Roll.
The Chicken with Broccoli lunch came with a large portion of tender white-meat chicken and stir-fried broccoli. The sauce was unexpectedly sweet and heavy on the ginger, but the side of Chicken Fried Rice featured an abundant supply of chicken and was a good step up from the rice typically served in Asian to-go places. The Hot & Sour soup was a highlight, delivering a nice balance between the hot and the sour in a silky broth, with neither flavor sensation overpowering the other. The miso soup was strictly mediocre, with the thin and noncommittal flavor of a store-bought mix. The added egg roll ($1.20) didn't rise above those you'd get at most Chinese takeout joints.
Double Cooked Pork ($10.95), from the Chef's Specials lineup, was notable mainly for the healthy portion of chunky and still-crunchy vegetables mixed in with the meat. The portion size was ample, but there wasn't enough zing or savory fattiness to the pork to justify eating all that was dished up. And Chicken Yaki Udon ($8.95) proved a bland mix of chicken, stir-fried vegetables and thick udon noodles.
On the sushi side, the Spicy Salmon Roll ($6) wasn't spicy and apparently had minced the fish with enough breaded onions to obliterate the sense that you were eating any variety of seafood. It might as well have been breakfast cereal wrapped in rice. Weirdly, the Peanut Avocado Roll ($4) was far better than you'd expect, with the two featured ingredients—and I think the peanuts were honey-crusted—melding in an agreeable way. A nice surprise.
Surprising on another visit was that the Any Three Rolls Lunch Special ($9) that was announced on an A-sign in the doorway didn't apply on weekends. Instead, I went for a Maki Lunch of two rolls ($9) from a limited menu, leading to workmanlike California and Spicy Yellowtail rolls.
While I wouldn't return on a date night or with a group searching for a fine-dining experience, I'm sure I'll be lured back by the weekday lunch specials. For those working nearby, the fact that Asian Garden offers free delivery for orders over $10 is certainly a plus as well.•
—Lou Harry and IBJ Staff
Please enable JavaScript to view this content.