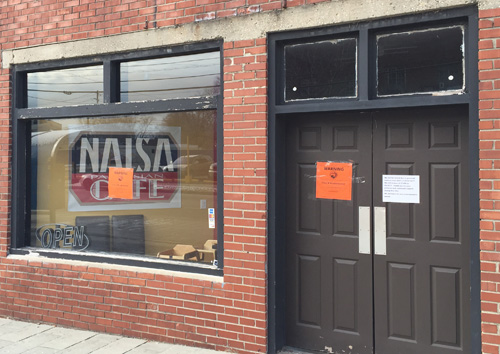 A Fountain Square dining staple has temporarily closed after it allegedly failed to pay state taxes.
Naisa Pan-Asian Cafe at 1025 Virginia Ave. stopped serving its fare on Feb. 1 and is set to reopen on Feb. 15, according to a sign on the door from ownership stating the cafe is closed "due to personal matters."
Another sign, however, posted by the Indiana Department of Revenue warns customers that the establishment is in violation of the Indiana Tax Code, a class B misdemeanor.
A spokeswoman for the Department of Revenue said the agency is prohibited by law from releasing information about an individual or business.
"In general, when the department has exhausted all possible remedies to collect taxes, the department can revoke the business's Registered Retail Merchant Certificate," said Amanda Stanley, the department's director of public relations.
Business cannot be conducted again until the merchant certificate has been reinstated, she said.
Four tax warrants filed against Naisa in 2017 show it owes the state $27,837 in sales, food and beverage, and other taxes dating from June 2016, according to Marion County records. Dozens of tax warrants had been filed by the state since the restaurant's opening in 2009.
Naisa owner Christina Hsieh couldn't be reached for comment.
This is not the first time Naisa has closed for an extended period. It shut down for five months in 2015, according to a Facebook post, for unspecified reasons.
Naisa, or Asian spelled backwards, opened in 2009 and is located southeast of Wildwood Market.
Its small-plate offerings include egg rolls, seafood cheese wontons, shrimp tempura and pork dumplings. Larger beef, pork, chicken, seafood and vegetarian dishes also are available.
Please enable JavaScript to view this content.