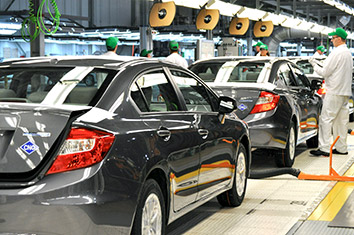 Honda has started building the popular CR-V vehicle at its southeastern Indiana assembly plant.
The Greensburg factory marked the start of production of the small sport-utilty vehicle Wednesday. Officials announced plans last year to spend $52 million on preparing the factory for CR-V production.
The factory also builds Honda Civic compact cars and has added about 100 jobs to its current 2,400-person workforce.
Honda Manufacturing of Indiana President Bob Nelson said he's proud that the factory about 50 miles southeast of Indianapolis is now building two of the country's best-selling vehicles.
The plant opened in 2008 and can now produce about 250,000 vehicles a year.
Please enable JavaScript to view this content.