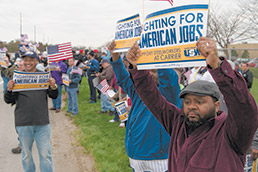 Carrier saved some jobs at its Indianapolis HVAC factory after Donald Trump intervened. (IBJ file photo)
Employees at 45 Indiana workplaces—including 11 in the Indianapolis area—applied for federal assistance in the past 13 months because they believed they were victims of trade-related job losses.
Under the U.S. Department of Labor's Trade Adjustment Assistance program, qualifying workers who lose their job as a result of foreign trade can receive money for training and job-search expenses. Qualified workers age 50 and older also can receive extra pay if they find a new job that pays less than the one they lost.
To receive benefits, displaced workers must apply as a group and have their applications approved by the Labor Department.
Of the 45 applications submitted from Jan. 1, 2016, through mid-February of 2017, nine were from Indianapolis, one was from Anderson, and one was from Franklin.
Approvals went to displaced workers from Carrier Corp., International Business Machines Corp., Rexnord Industries LLC, Rural/Metro Corp., StreetLinks Lender Solutions, Vertellus Specialties Inc., Yellow Pages Digital & Media Solutions LLC, all in Indianapolis; as well as Altairnano in Anderson and Atlas Copco Hurricane LLC in Franklin.
The two denials were for Contacts Metals and Welding Inc. and Technicolor Connected Home USA LLC, both in Indianapolis.
Statewide, the Labor Department approved 31 applications. Twelve were denied, and two investigations were terminated before the department reached a decision.•
Please enable JavaScript to view this content.