If President Trump follows through on his promises to redraw international trade agreements, Indiana might feel the results more strongly than any other state.
That's because, according to the Brookings Institution, Indiana's economy is the most export-dependent in the nation. In 2015, Indiana exported $62 billion in goods and services, which represented a full 19 percent of the state's economy.

What's more, four of Indiana's metro areas are among the most export-dependent in the country, according to a recently released study from the left-leaning think tank.

The Columbus metro area, home to diesel-engine manufacturer Cummins Inc., ranks at the top of the Brookings report, with 50 percent of its local economy fueled by exports.

Elkhart, Kokomo and Lafayette rank fourth, fifth and sixth out of 381 U.S. metro areas. The Indianapolis area ranks 110th, with 13 percent of its economy coming from exports.

"No state relies so heavily on trade as Indiana, and no state has as big a stake in the nation maintaining favorable, stable trade frameworks," said Mark Muro, who co-authored the Brookings study.

That export strength becomes a vulnerability if Trump recasts U.S. trade policy. Last month, he pulled the United States out of the Trans-Pacific Partnership, a multinational trade agreement whose parties include Japan, Canada, Mexico, Australia and seven other nations—a pact Cummins CEO Thomas Linebarger strongly supported.
Trump also has expressed his desire to renegotiate the North American Free

Trade Agreement, or NAFTA, whose participants are the United States, Canada and Mexico.

"Trade often seems like a remote international diplomatic issue. But in Indiana, it really hits home. It really represents a crucial part of your local economies," Muro said.

Indiana companies, and those who advise them, say it's too early to assess the fallout from Trump's trade policies. But the topic is starting to create buzz.

Shelbyville's mayor and Shelby County's economic development director both say they've heard trade-related concerns from numerous local companies in recent weeks.

"I think that what [companies are] doing is deferring decision-making on large investments until they get some certainty on what this really means," Shelbyville Mayor Tom DeBaun said.

Shelby County, part of the Indianapolis metro area, has a population of only about 45,000. But the county is home to 14 foreign-based companies employing a combined 3,600 people. Two more projects are in the works, which will bring that total to 16 companies and 3,800 jobs.

If Trump's rhetoric escalates into a trade war, plenty of domestic manufacturers in Shelby County and across the state could feel the effects as well. Some import foreign components for their products, or sell their finished products internationally—or both.

For example, a tariff on parts from Mexico—something Trump has threatened—could spell trouble for manufacturers that source components from that country. That tariff would increase the company's production costs, putting it at a disadvantage with a competitor sourcing from a different country.

Businesses "need to feel a sense of normalcy before they'll allow future investments," DeBaun said.

'Taking it in stride'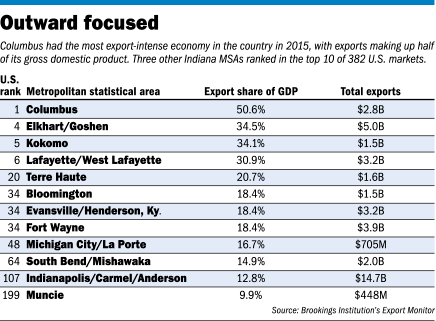 Despite the high stakes in Columbus, there is no sense of panic.

If the United States ends up in a trade war, "yeah, that could make a difference," Greater Columbus Economic Development Corp. President Jason Hester said.

"At this point, we're taking it in stride and not losing sleep over the discussions, realizing that a lot of people are working on this at a lot of levels."

The Columbus metro area, which is made up of only Bartholomew County, exported $2.8 billion in goods and services in 2013, according to the Brookings Institution report. That export activity directly supported just over 5,000 local jobs, the report says.

Local companies involved in exports besides Cummins, which employs 9,600 workers across Indiana, include NTN Driveshaft Inc., wheelmaker Enkei America Inc., child-safety-seat maker Dorel Juvenile U.S.A. and others.

For now, companies in Columbus and across Indiana are saying little publicly.

"They're not calling on us to call our elected officials at this point," Hester said.

During an earnings call with analysts this month, Lawrence Dewey, CEO of Indianapolis-based Allison Transmission Holdings Inc., said the company's earnings guidance "does not comprehend or speculate on the potential implications of the Trump presidency."

Allison employs 2,500 workers in Indiana and generates more than a quarter of its sales outside the United States.

When an analyst asked what the company expects regarding imports and exports, Chief Financial Officer David Graziosi replied: "There is a number of things that are going to come into effect there potentially, and we'll manage when we know the facts and react accordingly."


Executives of Indianapolis-based trucking company Celadon Group Inc. "don't anticipate a drastic change," Chief Operating Officer Erik Meek said in an earnings call this month.

NAFTA has been a boon to the company, which runs many of its routes between the United States and Canada. But executives are confident a catastrophic curtailment isn't in the offing.

"There may be some tweaks to the NAFTA agreement, but all in all, the freight is going to continue to move between the three countries," Meek said.

NAFTA also came up during a recent earnings call for Tate & Lyle Plc, a British food and beverage ingredients maker with two Indiana facilities in Lafayette and one in Fowler.

CEO Javed Ahmed said it's "way too early" to know if there will be any changes to NAFTA. He added that, "if tariffs were implemented, yes, our export margins to Mexico could be reduced, but we would expect that to be at a pretty manageable level.

"So we're working very hard to stay on top of this, clearly, with our industry partners, but that's about as much color as I can give you right now. If I go beyond that, it is just pure speculation."

Preparing for uncertainty

The Brookings Institution's Muro said now is the time for companies to make sure they have "sharp strategies and a sense of backup markets if things change."

In other words: If Nation X becomes less attractive as a U.S. trading partner, companies that do business with that nation should develop ideas for other partners they might turn to.

"I think doubling down on their market research, doubling down on their international contacts, and perhaps communicating their needs to Washington are all important priorities now," Muro said. "A renegotiation of the terms of trade—say, in NAFTA—doesn't happen in a vacuum."

Indeed, Trump couldn't dramatically change trade policy without working through Congress—and lobbyists and many other parties would be part of the conversation.

And having Mike Pence in on that discussion can't hurt, said Maureen Krauss, chief economic development officer at the Indy Chamber.

"We have a great advantage with the vice president knowing our companies very well," she said.

Further, because trade is so complex, abrupt changes are unlikely, said Russell Menyhart, a former diplomat in China, Argentina and Washington, D.C., who's now a partner at Taft Stettinius & Hollister LLP.

He said he's not hearing concerns from clients.

"It's still very early, and I think people are waiting to see what happens," he said.•