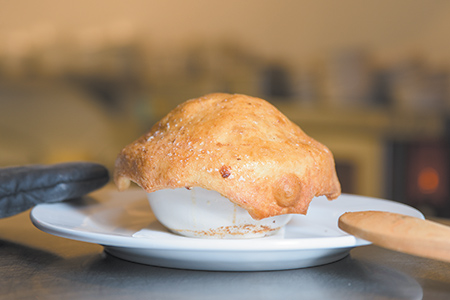 Tucked into the Keystone Commons shopping plaza off East 82nd Street, Craft Street Restaurant & Bar (8487 Union Chapel Road, Suite 560, 317-299-8888) is the latest occupant of an address that formerly housed Detour, Lulu's Restaurant and Scarlet Whiskey & Wine Bar.
Is it crafty enough to succeed where those didn't?
Perhaps. But first, it helps not to have unrealistic expectations based on the name. Recent history on the dining-and-drinking front might lead you to expect that craft means a raft of beer options. Here, though, just three (BIER Brewery Dankzilla, PDG and Dogfish Head 60 Minute) are offered under the draft heading on the menu, although others are available. Ditto for craft cocktails, which you'll have to ask your server about.
Once inside the comfortable space, though, it's evident that craft has as much to do with the kitchen's efforts as it does with the bar's offerings.
So what does Craft Street mean by "comfort craft food with a twist"?
Well, the Pulled Pork Poutine ($11) certainly isn't your run-of-the-mill French fry appetizer, although the Canadian fries/cheese curds/gravy staple is becoming more common in local eateries. Here, the spuds get a Cojita cheese, green onion and demi glace treatment building to a nice, consistent flavor while effectively protecting the integrity of the spuds.
Craft Street Tacos ($13) offered a choice of chicken, steak or shrimp. We went with the seafood, which could be dressed in an array of offerings on the sizable plate, including cilantro, jalapeno, pickled red onion, crema, pico de gallo, refried beans, Cojita cheese, and arroz con gadules (a rice, peas and pork combo that I wouldn't object to as its own side dish).
The Korean Fried Chicken Sandwich ($14) was interesting but not interesting enough to justify the high price point. The fried chicken within was flavored but not overwhelmed by gochuchong (a Korean hot pepper sauce) and kimchi.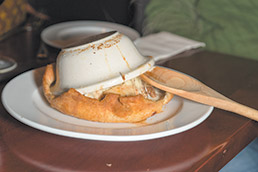 A server pries and taps so that the pot pie spills out into a cheesy, doughy mound. Don't expect it to hold together like the frozen varieties. (IBJ photo/Eric Learned)
The signature dish here is the Craft Street Pizza Pot Pie ($16 for a half-pound/$24 for a pound). Like its namesake, this pot pie is baked, but it's then flipped over onto a plate to serve. That move is performed tableside, leading to some potential oohs and aahs as the cheese oozes out.
Unlike pizzerias where half the game is selecting your toppings, here, options are limited to veggie or meat, with the meat being a blend of ground beef and pork sausage. Either version contains substantial button mushrooms, garlic and plum tomatoes with a minimal amount of house-made marinara sauce, and mozzarella—lots of mozzarella—in a soft, buttery crust. As a pizza novelty, it plays fairly well, provided you go in with little interest in sauce and are prepared to knife-and-fork it.
An overzealous website copywriter promises that Craft Street is a place to "experience your best dining experience ever." Not quite. But with live music most nights, specials scattered through the week to keep locals coming back, and Dine and Donate options (buying a gift certificate online helps such organizations as Toys for Tots, the Washington Township Little League and the IPS Education Foundation), Craft Street has turned an oft-turned-over spot into an upgraded neighborhood bar with potential.•
Please enable JavaScript to view this content.