Top Honoree: Community Achievement in Health Care
NeuroHope of Indiana
A patient with a spinal cord injury is hospitalized, then released to a rehabilitation facility and, later, outpatient therapy. But insurance benefits run out and therapy stops long before the patient is self-sufficient.

It's a story all too familiar to Nora Foster, Sara Sale, Donna Peterson and Wendy Ahler, the therapists at NeuroHope of Indiana, which opened in February 2015 to keep therapy going and hope alive for people recovering from spinal cord injury, brain injury, stroke and other neurologic conditions that require rehabilitation beyond what insurers are typically willing to pay for.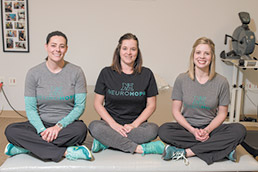 From left, Nora Foster, Donna Peterson and Sara Sale (IBJ photo/Eric Learned)
"This isn't just a job for us … it's not about salary or benefits," said Foster, a physical therapist who is passionate about spinal cord injury rehab. Foster was working at a local rehab hospital and looking for a new challenge when a faculty member at University of Indianapolis, where she was trained, connected her with Chris Leeuw.

Leeuw had moved from Indianapolis to Utah for affordable therapy after an accident in 2010 left him paralyzed from the neck down. When Foster met him, he was laying the groundwork for NeuroHope so others wouldn't have to move across the country to receive the care they needed.

Foster worked with Leeuw to make NeuroHope a reality and became its first employee.

"It was a big leap of faith," said Foster, who, like her co-workers, is paid a "non-competitive" salary and receives no benefits. The four supplement their meager NeuroHope incomes with other physical therapy jobs.

To open the clinic, Foster and Leeuw raised $80,000 from a crowdfunding campaign and have since garnered support from the University of Indianapolis, the locally based Foundation for Complex Healthcare Solutions and the OrthoIndy Foundation. Every dollar counts as they continue to ramp up service in rented space on the third floor of the Southeast Community Services Center on Shelby Street in Fountain Square.

The not-for-profit has steadily built up its hours and is now open Mondays, Wednesdays and Fridays from noon to 5. The clinic started in 2015 with 20 patients and by 2016 had 30, 18 of whom were new. Some have insurance to cover their treatments, but many pay out of pocket. Keeping out-of-pocket cost affordable so patients can extend their therapy as long as needed is what NeuroHope is all about—and the reason it's the top honoree of the 2017 Health Care Heroes Awards in the Community Achievement in Health Care category.

The therapists at NeuroHope see patients twice a week for an hour at a time at an hourly rate of $50. The going rate for private-pay physical therapy is $300 to $400 for a 45-minute session.

Becoming credentialed with Medicare, Medicaid and private insurers so NeuroHope could accept insured patients was no small task. Making arrangements with Medicare and Medicaid was outsourced, but Foster lined up the private insurers herself. There's still no administrative staff. Foster handles scheduling and insurance claims, and locally based ClaimAid does billing free of charge.

Though NeuroHope operates on a shoestring, it's as good as gold for those who've received therapy there.

John Piper, a retired command sergeant major in the Indiana National Guard, found NeuroHope online. Now he considers its therapists essential to his recovery from a life-changing spinal-cord injury. "From assisted steps down the hall, to steps in a machine that supports my weight, to core exercises on my hands and knees, the devotion shown by the NeuroHope team is evident," Piper said. "The success I find each week is a direct result of their care."

When Monica Huffman's father ran out of insurance to cover his rehabilitation from prostate cancer that paralyzed the lower half of his body, he didn't have enough trunk control to sit by himself or turn himself in bed. The continued rehabilitation he's received at NeuroHope has restored his independence and quality of life, Huffman said. "I've learned that there's so much more that can be done ... beyond initial rehabilitation."

Foster and the NeuroHope team continue to pursue support for the life-changing service NeuroHope provides. In 2015, Leeuw reached out to State Sen. Pat Miller for help in funding long-term rehabilitation. The result was legislation passed by the Indiana General Assembly and signed by Gov. Mike Pence that made available a pool of $1 million for affordable physical therapy rates. NeuroHope has applied for some of the money, but hasn't heard yet whether it will receive a grant.•