Honoree: Community Achievement in Health Care|
Comprehensive Counseling Services for First Responders
A city's first responders—police, fire and emergency medical personnel—cope with stressful situations on a daily basis. They see and hear things most people would be ill-equipped to deal with. And even though they're trained to respond appropriately in the moment, the lasting trauma can trigger a host of mental health disorders.

So where do they turn when they need help?

In Indianapolis, all six major hospital systems came together in 2014 in a collaboration that stands ready to serve first responders with confidential, high-quality care.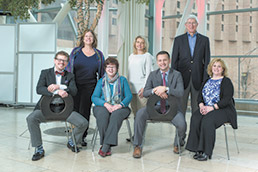 From left, Community's Kimble Richardson, St. Vincent's Rita Langlois, IU Health's Susan Day, Franciscan's Christian Frederick, public safety foundation's Dane Nutty, Integrity Health Solutions' Bill Corley and Community's Ann Stephens-Vawter (IBJ photo/Eric Learned)
Comprehensive Counseling Services for First Responders puts the resources of Community Health Network, Eskenazi Health, Fairbanks, Franciscan Health, Indiana University Health and St. Vincent at the disposal of first responders and their families.

The hospital systems share the cost and provide services at no charge. It's their way of giving back to the community, said Bill Corley, the former top executive at Community Health Network who helped get the service off the ground along with the hospital CEOs, former Indianapolis Public Safety Director Troy Riggs, the Indianapolis Public Safety Foundation and input from first responders themselves.

Confidentiality is key.

"A lot of things first responders deal with on the job they are very insular about," said Dane Nutty, executive director of the public safety foundation.

"They have to get it off their chest," Corley said. If they don't, all manner of interrelated problems can develop, such as marital strife, alcoholism, drug abuse, depression and anxiety.

Calls to the service are answered at a central location by a counselor, who makes arrangements to have the caller fax or email a phone number to the chosen facility. The counselor who will ultimately see the caller is the one who contacts the person to schedule an appointment. That counselor is the only one who learns the person's name. Callers with addiction problems are typically referred to Fairbanks, but in many cases the caller chooses the facility. Sometimes callers want to be treated at the hospital closest to home, but for confidentiality reasons they sometimes choose a remote location, Corley said. Even the records of the patient's case are maintained separately from the facility's other records.

Corley and Nutty said that, to their knowledge, there is no other example in the United States of a community's health care systems all collaborating to provide free, confidential counseling to first responders. But that might be about to change. A former Indianapolis public safety official who is now working in Dallas is exploring setting up a similar service there.

Corley, who knew the heads of all the hospital systems here from his time leading Community, said there was very little pushback from the health systems about the idea of offering the service for free.

"The providers of this collaborative truly want to walk alongside first responders or their families to help in any way they can," Nutty said. Short-term counseling is often all that is needed to strengthen one's ability to identify resources, solve problems and have a more satisfying home and work life, he said.

Comprehensive Counseling Services for First Responders is just the type of initiative the public safety foundation was created to support, Nutty said. The foundation is responsible for communicating the existence of the service to first responders and is making plans for a more concerted push in that regard. So far, much of the communication has been via email or word of mouth.•