Honoree: Community Achievement in Health Care
Marian University College of Osteopathic Medicine
Typically, about 70 percent of medical students who study and do their residency in the same state end up practicing there when their training is complete.
Hoosiers concerned about a physician shortage in Indiana hope those statistics hold true for the Marian University College of Osteopathic Medicine, which will graduate its first class this year. The graduation is a milestone in Marian's bold plan, announced in 2010, to open the state's second school of medicine, and the first since Indiana University got into the medical school business more than 110 years ago.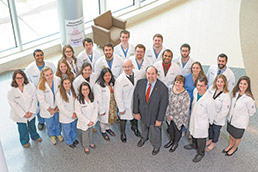 Dr. Donald Sefcik, dean of the College of Osteopathic Medicine, with faculty and members of the college's first class (IBJ photo/Eric Learned)
Marian's school, the brainchild of Marian University President Daniel Elsener, expects to graduate 136 doctors in May, said Dr. Donald Sefcik, the new dean of the school. Sefcik, who arrived 10 months ago from Michigan State University to replace founding dean Paul Evans, said 80 percent of Marian's medical students are from Indiana or surrounding states, and many are duty-bound to stick around and practice medicine in Indiana initially.
In the inaugural class, 88 students are from Indiana and half of them qualified for the Indiana Primary Care Shortage Area Scholarship. The scholarship was approved by the Indiana General Assembly to battle the state's primary care physician shortage and is unique to Marian. In exchange for the scholarship assistance, students agree to stay and practice in an underserved area of Indiana upon being licensed. The commitment is to practice in the state one year for each year in which the scholarship was received.
Sefcik expects many of the graduates to work in county hospitals in one of the more than half of Indiana counties that have a physician shortage. Turning out physicians to work in underserved rural areas is a big emphasis of Marian's program, he said, and those county hospitals are actively recruiting Marian students.
Osteopathic medicine has a long tradition of focusing on overall wellness. Doctors of osteopathy receive the same training as traditional doctors, but go through extra training on the muscular and skeletal systems. They use their hands to move muscles and joints to diagnose, treat and sometimes prevent illness and injury. Significant for Indiana is that osteopathy schools typically send more graduates into primary care than do traditional medical schools.
Students in Marian's program spend their first two years on campus, with limited clinical work in local health care facilities. In the second two years of the program, the situation is reversed, with less time spent on campus and more spent working in one of the school's partner health care systems, primarily Community Health Network and St. Vincent, which were early supporters of the program, and Hendricks Regional Health and Hancock Regional Hospital.
The university has received donations from a who's who of Indiana institutions. Besides St. Vincent and Community, support came from the Eli Lilly and Company Foundation, medical device company Hill-Rom, Roche Diagnostics and Suburban Health Organization. Hundreds of individual donors have kicked in millions more.
The school's facilities include the 140,000-square-foot Michael A. Evans Center for Health Sciences, the Browning Anatomy Lab and the Hill-Rom Simulation Center.
The school has 28 full-time faculty and about 800 adjunct faculty, counting the practitioners who work with students at the hospitals.•
Read more Health Care Heroes profiles.
Please enable JavaScript to view this content.