Top Honoree: Advancements in Health Care
Dr. Michael O. Koch
Chairman of the Department of Urology, Indiana University Health
Good things take time, especially in health care.
A treatment for prostate cancer that became available at Indiana University Health about a year ago was 20 years in the making. But it was worth the wait, thanks largely to the efforts of Dr. Michael O. Koch, who has been pursuing the use of high-intensity focused ultrasound, or HIFU, for the treatment of prostate cancer since shortly after he arrived at IU to chair its urology department in 1998.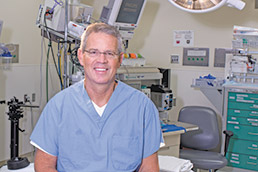 (IBJ photo/Eric Learned)
Koch, 60, learned about HIFU from Naren Sanghvi, who at the time was an IU School of Medicine professor studying the technology. HIFU was being explored as a treatment for benign enlargement of the prostate, but Koch thought treating highly localized prostate cancer would be a better use for it and embarked on a journey that resulted in the treatment's receiving U.S. Food & Drug Administration approval in October 2015.
"HIFU is poised to be a breakthrough in cancer care," said Dr. Douglas Schwartzentruber, medical director of IU Health's cancer service line. "Currently, there is no alternative to accurately and safely destroy solely the cancerous part of the prostate."
Koch, for his role in achieving that breakthrough, is the top honoree of this year's Health Care Heroes award in the Advancements in Health Care category.
HIFU is used to burn and destroy affected tissue with the goal of preserving healthy prostate tissue. Much like a magnifying glass can concentrate sunlight to burn through an object, HIFU uses focused sound waves to target cancerous areas of the prostate. The benefit to patients is that the HIFU surgery is outpatient, takes only a few hours, and avoids the life-altering side effects—such as erectile dysfunction and loss of bladder control—that often accompany removal of the prostate.
Koch wasn't the only urologist interested in using HIFU to treat prostate cancer. A doctor in Japan had the same idea, and Koch and Sanghvi traveled there to witness a surgery. Impressed with what he saw, Koch decided to pursue regulatory approval and bring the surgery to IU.
Soon after returning from Japan, Koch, with help from Sanghvi, organized a meeting of leading urologists from around the globe to design a clinical-study protocol and gained FDA approval to perform the surgery on 20 patients. All 20 surgeries took place at IU, and the results were positive for about 60 percent of the patients.
The next step was a broader, multi-institutional trial. The results, presented to the FDA in October 2014, were conclusive enough for Koch but didn't persuade the FDA to grant approval. Koch, Sanghvi and other supporters of HIFU as a treatment for prostate cancer thought their quest was dead. But the FDA surprised them one year later by granting de novo approval of the treatment. That means the procedure is safe and can be performed, but it doesn't speak to its effectiveness and it's not covered by Medicare or insurers.
That hasn't stopped Koch from performing the procedure. Seven patients have chosen it, and all have been happy with results and enjoyed negative biopsies post-surgery.
One of them, Drew Davis of West Palm Beach, Florida, heard from his local doctor about the work Koch was doing with HIFU and decided to explore the possibility. Ultimately, he elected to try it to avoid the side effects of traditional treatment. The treatment lasted four hours, and after a follow-up appointment two days later, Davis was on his way back to Florida.
"As a physician and scientist, Dr. Koch is more concerned with outcomes than accolades," Davis said. But "he is a man who should be recognized and applauded for his research, global awareness and for being a caring physician."
Koch gives credit to Sanghvi for his dogged pursuit of the technology and for creating the company that makes the tool used to perform the surgery. He also credits advances in imaging that have come about in the last 10 years that make it easier to precisely locate and treat the cancer.
Koch is confident that, once a track record is established for HIFU and prostate cancer patients begin asking for it on a regular basis, insurers will get on board and begin covering it.
He estimated that the treatment that some have started calling "the male lumpectomy" should be a viable option for up to 20 percent of the almost 200,000 new cases of prostate cancer detected each year.•
Read more Health Care Heroes profiles.
Please enable JavaScript to view this content.