Honoree: Advancements in Health Care
Daniel Clark
Center scientist, investigator, associate professor of medicine, Indiana University Center for Aging Research, Regenstrief Institute, Indiana University School of Medicine
Daniel Clark became interested in how he could improve population health after he and his wife spent time working on an agriculture project in rural Mexico. That's when he realized healthy behaviors are even more important than wealth when it comes to building a good quality of life.
He's been working to improve population health in Indianapolis since 1994, with a focus on promoting wellness in low-income communities.
"We spend over $3 trillion on health care in the United States. Most of that is on medical care … but supportive environments have a bigger effect on outcomes," said Clark, who has a doctorate in sociology.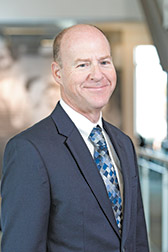 (IBJ photo/Eric Learned)
Malaz Boustani, who leads the Center for Health Innovation and Implementation Science at Indiana University, is a colleague and big believer in Clark's work.
"Dan is creatively expanding the scope of health care delivery from disease management to disease prevention," Boustani said. "Recognizing that the bricks-and-mortar health care system can only offer limited access and benefit, Dan is taking health care outside of these facilities and directly into the everyday lives of whole populations."
Clark, 51, has spent more than two decades understanding the many factors that drive individual health behaviors and designing interventions that are both feasible and acceptable to the low-income populations most burdened by chronic disease.
Among those who stand to benefit from his work are low-income African-American women, more than 50 percent of whom are obese. Clark is among those who've studied and are seeking ways of curbing the cues to eat or to limit physical activity that are pervasive in the lives and homes of obese urban poor women.
That research and collaboration with leaders of the African-American community in Indianapolis led Clark to develop "Healthy Me," a lifestyle modification program he conceived and designed that has touched more than 20,000 people. It offers free in-person and online classes and health coaches to all patients and employees at Eskenazi Health, Marion County's public health system.
Clark and his team are working on a Healthy Me smartphone app that he said will be "like having a health coach in your pocket." It will, among other features, capture an individual's health data throughout the day and send supportive messages at key times. "If patients are ready for this, we want to give them all the support they need" to counter the negative health influences in their lives, Clark said.
At Eskenazi Health's brain safety lab, Clark is working on memory training aimed at countering major risk factors for dementia and Alzheimer's disease, both of which are more prevalent among low-income populations.
Research conducted by Clark indicates there's a big upside to cognitive training for older, low-income adults. "Individuals who have had less education may have less cognitive reserve to overcome pathologies in the brain and may exhibit functional limitations earlier in the pathological process," Clark said in a summary of one of his studies. Clark's colleagues appreciate his work to improve the health of some of the city's most vulnerable before their problems require traditional medical care.
Said Boustani: "Thanks to Dan, the doctor no longer needs to be 'in' for health care to be delivered and entire populations to live healthier lives."•
 Read more Health Care Heroes profiles.
Please enable JavaScript to view this content.