Honoree: Advancements in Health Care
Dr. Gopi Dandamudi
Cardiologist, cardiac electrophysiologist, director of the Atrial Fibrilation Center at Indiana University Health Methodist Hospital
Dr. Gopi Dandamudi, 42, remembers when he became fascinated with the heart.
In an anatomy/physiology class in his Maryland high school, Dandamudi and his classmates dissected a lamb's heart. The experience caused him to consider the wonders of the human heart. "We're born with this organ that doesn't fail to beat until we're in our 80s or 90s. I don't know of any other organ or machine that can beat for 90 years without failing."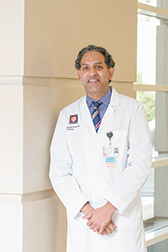 (IBJ photo/Eric Learned)
From that time forward, Dandamudi has been interested in electrophysiology. More than two decades later, he's helping advance the field with his expertise in "His-bundle" pacing.
The His bundle is a cluster of heart fibers connected to the body's built-in electrical conduction system. It controls the tempo of every beat of the heart so that blood is pumped efficiently and effectively.
A group of physicians on Staten Island experimented in the 1970s with the idea of placing pacemaker leads on the His bundle itself rather than the more common practice of attaching a pacemaker to the heart muscle. But the technique, which uses a basic pacemaker with a basic lead, was dismissed as unreliable by most of the medical community. It didn't help, Dandamudi said, that medical-device makers needed to protect their big investments in complex pacemakers with multiple leads.
Doctors implant hundreds of thousands of those pacemakers every year, but the devices are prone to long-term complications that stem from the slow, uneven contractions they tend to produce. His-bundle pacing, on the other hand, provides the heart with assistance more in keeping with the heart's design.
"Using this technique, we are able to help regulate heartbeats by tapping into the electrical system that we are all born with so the pacemaker can work with your heart as nature intended," Dandamudi said.
It wasn't until recently that His-bundle pacing began gaining wide acceptance, and Dandamudi has played a key role. A doctor in Pennsylvania used it on 12 patients in the early 2000s and published his results. That led Dandamudi and a colleague at his former employer, Pennsylvania-based Geisinger Health System, to begin experimenting with the technique. The results were too positive to ignore, and it wasn't long before Dandamudi was recruited by the Indiana University School of Medicine, where he had trained in electrophysiology after medical school.
He returned to IU in 2015 and later that year became the first physician in Indiana to implant a pacemaker using the His-bundle technique.
"Dandamudi has emerged as one of the world's leading authorities on this approach, which has the potential to become the new normal for hundreds of thousands of patients who get pacemakers each year," said Dr. Eric Williams, clinical director of the IU Krannert Institute of Cardiology.
Use of the technique has taken off in the last two years, Dandamudi said, adding that he's done more than 400 of the surgeries. He trains three doctors a month on the technique and estimated that about 90 others are waiting to come here for instruction.
Dandamudi is awaiting word on funding that would pay for a randomized clinical trial, the results of which are needed only to help convince the remaining naysayers.
But Dandamudi said he doesn't have to do much convincing of his patients. Once they hear about the results, they're ready to try it.•
Read more Health Care Heroes profiles.
Please enable JavaScript to view this content.