Top Honoree: Physician
Dr. Mary Rouse
Medical director, Indiana University Charis Center for Eating Disorders
People in Indiana and Alabama who've been successfully treated for an eating disorder can thank Dr. Mary Rouse for bringing their condition out of the shadows.
After serving a fellowship in adolescent medicine in Washington, D.C., that was evenly split between sexually transmitted diseases and eating disorders, Rouse followed her doctor husband to a post at the University of Alabama-Birmingham in the 1980s. Rouse, now 63, was practicing adolescent medicine there and asked colleagues where to refer patients with eating disorders. She was told they didn't have such patients. Knowing better, she sought out a psychiatrist and dietitian to help spread the word about eating disorders and to let primary care doctors know she was available to help their patients.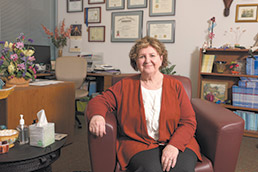 (IBJ photo/Eric Learned)
In 1992, Rouse and her husband came back to Indianapolis, her hometown, where he took a position as a pediatric surgeon at Methodist Hospital and she began practicing adolescent medicine there. She asked the same question she'd asked in Alabama about eating-disorder referrals and got the same answer: "We don't have many eating disorder patients here in Indiana."
Thus began an alliance with Joyce Loveday, a psychologist and wife of Methodist's CEO at the time, William Loveday.
Rouse and Joyce Loveday won approval from Methodist to open a half-day-a-week eating-disorders clinic at a satellite location. After about four years of that, they went to full time in 1997, opening the Eating Disorder Center of Indiana.
They grew the clinic for six years, until the Lovedays retired to Colorado. Rouse then jumped to IU Health Riley Hospital for Children, which was drawn by her expertise in eating disorders and had been recruiting her.
She joined the faculty at the IU School of Medicine and started an eating-disorders practice with two psychologists, an administrative person and a part-time dietitian. The practice, now known as the Charis Center, has since expanded twice. It employs nine therapists, two full-time dietitians, three administrative staff and a nurse.
Rouse's role growing and developing the center, which now treats 12,000 patients a year from Indiana and surrounding states, has made her the top honoree of the 2017 Health Care Heroes Awards in the Physician category.
The treatment of eating disorders is relatively new considering the primary disorder, anorexia nervosa, has likely been around for thousands of years.
"As the research improves, we get better at treating it," Rouse said. "It used to be considered strictly a psychiatric problem, but we're learning that there's a biologic component."
"I think the biggest thing I can offer [patients and families] is an understanding of it. It's such a relief to parents that we have a plan and that people can get better."
Rouse said the treatment of eating disorders takes a big team and that it's important for family to be involved in the treatment and recovery.
"It's rewarding to see kids' personalities come back. Parents use this phrase all the time: 'My kid is back.'" Rouse sees young patients transform from "scared, anxious little creatures to funny, social people." Rouse maintains a drawer full of cards and letters from former patients who've graduated from school, gotten married and had families. "That's rewarding."
Eating disorders typically strike right before puberty or toward the end of high school, whenever big life changes are happening. For adults, it most commonly affects women as they're becoming empty-nesters. As for outcomes, Rouse said about 30 percent of patients have complete recoveries, another 30 percent get better but are prone to recurrences, and another 30 percent struggle their whole lives. For an unfortunate 10 percent, the disease claims their lives.
At the Charis Center, a name derived from a Greek word meaning grace, kindness and life, there are three programs for patients, all outpatient. The most intensive, offered to patients 16 and older, is an eight- to 10-week program that keeps patients at the center from 7:30 a.m. to 6:30 p.m. Monday through Friday. There is a three-hours-a-day program offered three days a week. And there is regular outpatient care, which involves regular visits, depending on need. At all levels, there is nutrition counseling and regular therapy.
Rouse and her team have started a variety of support groups for patients. And to create future practitioners, the Charis Center has become a major teaching site for Butler University, the IU School of Medicine and university doctoral programs throughout Indiana.
"Her passion for increasing awareness and understanding of eating disorders is evident in her community education efforts," said Teri Duell, operations director for the National Center of Excellence in Women's Health, based in Indianapolis. "Her work and its impact on the health of Hoosiers is immeasurable."•
Read more Health Care Heroes profiles.
Please enable JavaScript to view this content.