Honoree: Physician
Dr. C. William Hanke
Dermatologic surgeon, St. Vincent Carmel
Dermatologists, perhaps more than other doctors, often get questions from complete strangers asking for a quick diagnosis. It happens to Dr. Bill Hanke all the time, and he doesn't mind. In fact, he doesn't hesitate to approach people on the street and advise them to see a doctor if he sees something suspicious.
But Hanke, 73, isn't just any dermatologist. He's a former president of the American Academy of Dermatology and is recognized internationally for his expertise in Mohs surgery, a precise surgical technique used to treat skin cancer. During Mohs surgery, thin layers of cancer-containing skin are progressively removed and examined until only cancer-free tissue remains.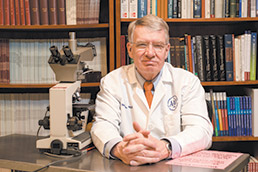 (IBJ photo/Eric Learned)
Although the surgery's origins go back to the 1940s, it didn't gain acceptance until the early 1970s. Hanke got in on the ground floor, and was at the Cleveland Clinic completing one of the few Mohs training fellowships in existence when he met Dr. Arthur Norins. Norins, a visiting professor who was chairman of dermatology at Indiana University School of Medicine, recruited Hanke to establish a Mohs surgery program at IU, which he did, turning down offers from Duke, Yale and Northwestern universities.
"Awareness of the advantages of Mohs surgery was nonexistent in Indiana," said Hanke, who spent several evenings a week for a number of years lecturing on the topic across the state to build awareness.
In 1998, after founding the program at IU; establishing a one-year fellowship training program; and earning a triple professorship in dermatology, pathology and otolaryngology, Hanke joined the staff at St. Vincent and established a training program there.
Though he has led the largest association of dermatologists in the world and authored or co-authored more than 400 medical publications, Hanke is still, at heart, a clinician.
"In the field of medicine, there are physicians who are outstanding teachers, superb clinicians or excellent researchers. However, there are very few who accomplish the trifecta that embodies all three of these areas. Dr. William Hanke is one such individual," said Dr. Eric Prystowsky, a cardiologist who is a colleague of Hanke's.
Hanke traces his interest in medicine to his childhood in Burlington, Iowa, where several members of the congregation at his family's church were doctors. "I thought they did amazing things and wanted to be like them."
In the course of following in their footsteps, he's won almost every award that can be given to a person in the field of dermatology, and he's left an impression on patients and students alike.
"In my young mind, perfection described everything he did in taking care of patients," said Dr. Christopher Obeime, a dermatologist who trained under Hanke. "His candid approach to matters from patient care to life in general has made him an invaluable resource."
Now 40 years into his career, Hanke is still involved in teaching, research, treating patients and pursuing initiatives he thinks will benefit the public. He has taken on the practice of indoor tanning, aiding a successful push for the Indiana General Assembly to ban it for anyone under 16. And he testified about the dangers of indoor tanning before the Federal Trade Commission.
How long will he keep at it?
"Patients sometimes ask me if I will ever retire from my work," Hanke said. "My answer is always the same: 'It has never been work to me.' It is a privilege to be a physician and to receive the satisfaction that goes along with treating patients and solving their problems."•
Read more Health Care Heroes profiles.
Please enable JavaScript to view this content.