Honoree: Physician
Dr. Eric Prystowsky
Electrophysiologist, St. Vincent Heart Center
Dr. Eric Prystowsky, a highly decorated electrophysiologist, keeps a small Sherlock Holmes figurine on his desk.

His interest in detective work goes back to his childhood just outside New York City, where he grew up reading Sherlock Holmes novels. His interest in medicine goes back just as far—both of his parents were doctors. The two interests merge perfectly in Prystowsky's chosen field, which has him doing detective work on a regular basis.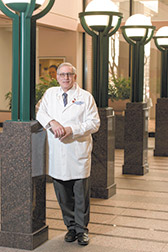 (IBJ photo/Eric Learned)
"It's fascinating to try and figure out what's going on with my patients," he said.

One of his professors at Mount Sinai School of Medicine had an interest in heart rhythms and drew Prystowsky into electrophysiology. He got his training at Duke University Medical Center, a pioneer in the field, and was later recruited to Indiana University School of Medicine by two Duke-trained cardiologists. He spent seven years running IU's electrophysiology lab, raking in grants, publishing research, and giving lectures around the world before being recruited back to Duke in 1986 to teach and run its cardiac arrhythmia center.

But his wife and children had left their hearts in Indianapolis, and the family returned here two years later. Prystowsky was recruited to St. Vincent Health to establish a program in electrophysiology, and has been there since, doing research, teaching and caring for patients.

Prystowsky, 69, estimated he works 80 hours a week, 20 of which are devoted to teaching and research and 60 to patient care. Though he's published hundreds of scholarly articles, written textbooks and is the longtime editor-in-chief of the Journal of Cardiovascular Electrophysiology, the well-being of patients is still at the heart of what motivates him.

"I could be having the worst day, and I'll walk in and a patient will give me that, 'I can't believe how I feel now' look, and the rest of the day I'm like Teflon. You can't touch me."

Another achievement was his role in the conviction of Orville Lynn Majors Jr., the nurse who, in the 1990s, killed intensive-care patients at Vermillion County Hospital by injecting them with potassium. It was Prystowsky's sleuthing that helped connect the dots and send Majors to jail.

Prystowsky has also long been on a mission to educate patients on the risks of atrial fibrillation, efforts for which the American Foundation for Women's Health created the Eric Prystowsky Advocate for Patients Award in 2013.

Prystowsky believes employing his detective skills effectively on behalf of his patients requires a laser focus on the details of each case. He believes a threat to that focus is the computer, which, in this day of electronic medical records, is ever present in the exam room.

There's a huge upside to electronic records in terms of ease of accessing info, Prystowsky said. "But there's a downside. You are now talking to a doctor who's in front of his computer typing notes." The computer gets a lot of the attention, while the patient gets an occasional glance.

Prystowsky fell into that trap early on, but learned his lesson when a patient called him out. "Dr. Prystowsky, you need to look at me," the patient complained. Now he doesn't touch the computer until the patient leaves, giving patients his full attention. Because when it comes to solving medical mysteries, every detail matters.•