Top Honoree: Non-physician
Lisa Covarrubias
Nurse case manager, Marion County Public Health Department Tuberculosis Program
Lisa Covarrubias found her calling early in life.
As a child growing up in the farming community of Middletown, she'd see migrant workers who lived in tents and toiled in the fields, rain or shine. "We'd go by them and I'd say, 'One day, I'm going to help those people.'"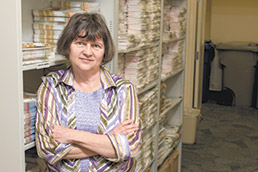 (IBJ photo/Eric Learned)
Covarrubias, 55, has helped many people in her 28 years as a public health nurse for the Marion County Public Health Department. It's a role that takes her into people's homes, medical clinics, shelters and a variety of other settings to provide immunizations, prenatal counseling, home visits for new moms, and all manner of disease screenings.
In 2016, she became a nurse case manager for the Health Department's tuberculosis program, helping to monitor its caseload of about 50 patients with either latent or active TB. One of her new responsibilities is quality assurance—analyzing the program to make sure it's reaching as many people as possible. "Where are we missing the population that's coming down with active TB?"
If Covarrubias succeeds in answering that question, it will likely be because she spends so much time among those at highest risk: refugees, recent immigrants, the homeless and jail populations.
What sets Covarrubias apart, her colleagues said, isn't just the time she spends tending to the health care needs of the people she sees, but her willingness to help ease their other burdens.
"She spends a lot of her personal resources and time to take care of our patients, and she routinely volunteers to take on the most urgent or difficult cases that a lot of people would shy away from," said Dr. Mercy Obeime, a colleague.
It's that kind of dedication that makes Covarrubias the top honoree of the Health Care Heroes Awards in the Non-physician category.
Obeime, who began working with Covarrubias when she joined the TB Program, said Covarrubias seems to know what patients are lacking in their apartments, and she tries to provide for them. "She has everything that might be needed in the trunk of her car."
Harkening back to her concern for the migrant workers she met in her youth, Covarrubias has a special place in her heart for refugees who arrive here with few resources and little understanding of our language and culture.
She found out early in her career that knowing Spanish would be all but a requirement of her job, so Covarrubias taught herself the language. She has since learned to sign and knows basic phrases in Chin, Burmese, Swahili and Korean.
"Providing culturally competent, holistic care is a top priority in our organization," said Sarah Koch, coordinator of the TB program. "Lisa Covarrubias absolutely embodies this value."
During the 2016 holiday season, Covarrubias helped coordinate, purchase and deliver gifts to more than 100 families in the Indianapolis area. When it's back-to-school season, she fills backpacks with supplies and distributes them to the children of the health department's clients. If a family is identified as facing food insecurity, Covarrubias provides food and gift cards and shops at international groceries to make sure the food provided is culturally appropriate. A master gardener, Covarrubias also teaches clients how to raise their own food.
The relationships she forges with patients don't always end after their cases are resolved. "Many of her patients come to her years later for support and guidance, long after she has inactivated their charts," said Dr. Eva Muloma, medical director of the TB program.
Not that Covarrubias does all of this alone. She has struck up relationships with numerous partner organizations, some of which help identify those at risk and others that can provide resources. Second Presbyterian Church, for example, has been helping Covarrubias more than 25 years. At a twice-a-month TB clinic she facilitates, she recently passed out hats and gloves donated by the church.
It's common for the refugees she deals with to be unprepared for winter weather. "People come to us in the snow wearing sandals … that doesn't work here," Covarrubias said. Besides providing health care and warmer clothing, Covarrubias tries to offer reassurance and emotional support.
One day in late January, every one of the patients she worked with expressed fear that, because of orders coming out of Washington, D.C., they would be returned to their country of origin. Perhaps there was no one better than Covarrubias to offer them reassurance and demonstrate genuine concern for their well-being.
She knows she can't save the world, but Covarrubias likes to do her part.
"I can't do everything for everybody, but I can do everything I can for everybody."•
Read more Health Care Heroes profiles.
Please enable JavaScript to view this content.