Honoree: Non-physician
David Cravotta
Speech language pathologist, Hendricks Regional Health
David Cravotta graduated from the University of Evansville in 2002 prepared to become a high school English teacher. Instead, he moved to Indianapolis, where he and his friends were going to make it big with the band they had started. Then reality set in. He fell back on his secondary-education degree and took a job teaching at a high school. But an even better career fit was waiting in the wings.

Influenced by his physical therapist wife and his medical technologist mother, Cravotta began pondering a career in health care, specifically speech language pathology, an in-demand field that he reasoned was a good marriage of medicine and English. After taking some catch-up coursework, he entered Purdue's graduate program, emerging in 2008 and going to work at the Rehabilitation Hospital of Indiana.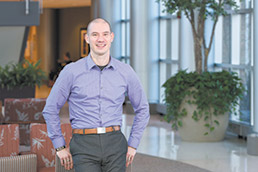 (IBJ photo/Eric Learned)
In 2010, Cravotta made the move to Hendricks Regional Health, where, in his area, as he says, "We handle everything from the neck up." Cravotta and his co-workers troubleshoot and find solutions for problems with swallowing, voice and speech and language issues, and cognitive impairment. The causes vary, from strokes to traumatic brain injury to aging. His co-workers describe him as courageous in his pursuit of new speech protocols and programs and new support groups.

Cravotta, 37, appreciates the freedom he's been given to improve the lives of patients at Hendricks. "'This is the way we've always done it' is not an acceptable answer to me," Cravotta said. Fortunately, those he works with have been receptive to trying new things.

He hasn't held back in suggesting the use of new procedures and techniques—ideas he was exposed to working elsewhere or at professional conferences, like Sin City Laryngology in Las Vegas. That's where he heard a noted Boston-based PhD talk about conducting a SimulStudy, a rare procedure in which a patient undergoes two fact-finding studies simultaneously. Because Massachusetts General Hospital had done more than 20 of them, Cravotta was convinced it was worth trying at Hendricks. He found the perfect candidate in a tongue cancer patient with severe swallowing problems. The result was a wealth of information about the patient's condition and a treatment plan.

The Yale Swallow Protocol, the Frazier Water Protocol and the Fiberoptic Endoscopic Evaluation of Swallowing are among the complex-sounding but useful tools now used at Hendricks, thanks to Cravotta. Many of the improvements, he said, are better for patients and save the hospital money, which make them popular with administrators.

He's also working with a group of doctors at Hendricks to develop a voice clinic where patients can receive a plan of care from one joint consultation. He and sports medicine doctor David Harsha are partnering on voice screenings for DePauw University vocal performance students and collaborating on a vocal cord dysfunction clinic to treat a vocal cord condition common in young athletes.

Cravotta gets satisfaction from simply giving patients the information they need. "When patients are empowered, I feel like I've made a difference in someone's life. When they have a plan, that's the best thing I can give to them. Then, when they can execute it, that's the ultimate compliment."•