Honoree: Non-physician
Kirsten Tragesser
Child life specialist, Riley Hospital for Children at Indiana University Health North Hospital
Kirsten Tragesser has had two careers: the one that came before she lost her 2-year-old daughter, Maddie, to lung disease, and the one she's dedicated herself to ever since.
Tragesser, 47, grew up near Chicago, graduated from Ball State University, then returned to Chicago where she held a variety of jobs, including working at an advertising agency and as an assistant producer for CNN. Eventually, she decided to go into teaching. She went back to Ball State for a master's degree in education and a teaching certificate before landing as a guidance counselor and teacher at Plainfield and Greenfield Central high schools.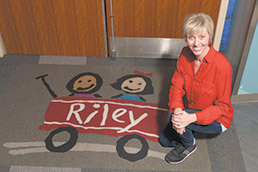 (IBJ photo/Eric Learned)
All that changed in 2000 when infant Maddie became ill. Tragesser quit her job and embarked on a heartbreaking, enlightening journey.
Now a child life specialist for Riley Hospital for Children at Indiana University Health North Hospital, Tragesser dedicates her time to helping families who find themselves in the same situation she was in when Maddie was sick.
"I had no idea what a child life specialist was until we were medevacked to a Philadelphia hospital," she said, recalling the emergency flight and the team of child life specialists she encountered after she and Maddie arrived. She quickly learned the value of such specialists, who help children and their families cope with illness, hospitalization and disability.
As she interacted with the child life specialists, the wheels started turning that she might want to become one. "I put it in the back of my mind that someday I'd like to do this."
After Maddie's death, Tragesser and her husband, Joel, adopted and had another child. Two years later, she began working toward the second career she'd imagined in Philadelphia. She took classes, served an internship at Riley Hospital for Children, and became certified in 2007.
Soon, she landed a job at Peyton Manning Children's Hospital at St. Vincent and later became a child life specialist for Riley at IU Health North.
Her life experience influences how she interacts with patients and families. "I always keep in mind what I would have liked when I went through it," she said. That might explain the many services she's introduced at IU Health North.
Among her many achievements, Tragesser became certified in and teaches infant massage. She also sought out and brought to the hospital various programs, such as Project Sunshine and ArtMix, that provide educational and recreational opportunities to children and their families. Even Tragesser's toy poodle Oakley, recently certified as a therapy dog, has gotten in on the act.
Outside the hospital, Tragesser is a volunteer for the American Lung Association. The ALA's Fight for Air stair climb team climbs stairs each March to raise funds for the organization in memory of Maddie. Tragesser's involvement with that event and as a volunteer for the group's annual Evening of Promise fund raiser led the organization to honor her in 2016 with its Team Spirit Award.
"She is a rare and special human being who has devoted her life to helping families during health crises," said Tanya Husain, executive director of the ALA's Indiana affiliate.
For Tragesser, knowing she's helping people is all the reward she needs.
"I sometimes receive letters from families I've worked with. It's satisfying to hear from them that working with me was helpful and made a difference."•
Read more Health Care Heroes profiles.
Please enable JavaScript to view this content.