Top Honoree: Volunteer
Pam Gavin
St. Vincent Indianapolis Hospital
Pam Gavin gets things done.
That's the common sentiment among the many volunteers and employees Gavin works with at St. Vincent Indianapolis Hospital. And it stands to reason. For Gavin, just getting to the hospital three afternoons a week to fulfill her volunteer duties as a greeter/guide can be a challenge. So she's accustomed to solving problems before she even comes through the door.
Her determination and dedication are well-known now, but it wasn't always that way.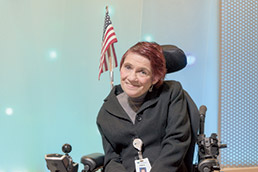 (IBJ photo/Eric Learned)
Gavin, who was born with cerebral palsy, admits to being apprehensive about volunteering at the hospital when she started back in 2007. And she remembers finding out early on that someone at the hospital had worked around her to get a job done because they didn't think she could handle it.
"When I found out, I felt underestimated. I made sure that I figured out a way to get the job done effectively. I am the kind of person who will make something work. I do not like being told that I can't do something."
Now 10 years into her role as a volunteer, and with more than 5,000 volunteer hours under her belt, Gavin knows every square inch of the hospital campus and easily guides children, their families and visitors around Peyton Manning Children's Hospital, where she spends most of her volunteer time. A favorite post is Door 4, a high-traffic area that can be especially busy in the afternoons.
Gavin's specialty is making the children who arrive there feel at ease.
"I love playing with the kids and giving them gifts like toys, books or games … to make them more comfortable. The kids don't judge me, and I love working with them the most."
For Gavin's tireless efforts on behalf of all patients at St. Vincent, she is the top honoree of the Health Care Heroes Awards in the Volunteer category.
Gavin, who has a master's degree in social work from IUPUI, said she always wanted to be a nurse, but her disability got in the way, so she decided to volunteer. She's never looked back, even though getting to her job on time isn't always easy.
The only mode of transportation Gavin used to have to get to work from her nearby apartment was her electric wheelchair. Another volunteer bought her an orange safety flag so Gavin would be more visible, especially in inclement weather. Now she takes public transportation, and occasionally has an aide to assist her.
But once she gets to work, Gavin is "all about it," said another Door 4 volunteer.
"There is nothing Pam can't do—especially if you tell her she can't do it. She will get wheelchairs and red wagons and figure out how to pull them in front or behind her wheelchair. She gets supplies and carries them on her lap, she folds maps—whatever needs to be done, Pam does," said volunteer Carla Endicott.
Gavin is known for being there not just for patients and their families but for her co-workers as well. At Christmas, she gives all of them a small gift, and she doesn't miss anyone, even if it takes until late January to distribute the last gift.
"The people I work with are good people to work with because they do not see my disability; they see me for who I am," said Gavin, who's known for her professionalism. "People know that I can be counted on and that I do a good job. I have a lot of friends here."
She also appreciates the support of her mother, two sisters, her brother and many friends, most of whom were present, some coming from out of town, when Gavin was honored at a reception for exceeding 5,000 hours of service.
Dot Hitchins, manager of volunteer services at St. Vincent, said Gavin is an example of what is best about the hospital's volunteers. "She is the strongest, bravest and one of the most beautiful ladies that I know. She is such an inspiration to me. Through all of her hardships, she stays strong and keeps positive. It has been my pleasure and honor to have worked with this wonderful lady. I will always consider her a good friend and very special co-worker."
Gavin said she'll keep volunteering at St. Vincent as long as she's physically able.
"When I have a difficult time in my life, I count on work to help me focus on what is important. Caring for other people gives me the strength to carry through anything that is going on in my life. I love my work at St. Vincent."•
Read more Health Care Heroes profiles.
Please enable JavaScript to view this content.