Honoree: Volunteer
Lee Neff
Riley Hospital for Children at Indiana University Health
It's been more than 20 years since Lee Neff's son Philip, the youngest of her three children, died of a rare neurometabolic disorder called Leigh's disease.
But time has not diminished Neff's determination to remember Philip in a meaningful way and to make a difference in the lives of others by volunteering at Riley Hospital for Children at Indiana University Health.
"Once you have someone treated there, you become part of the Riley family," Neff said.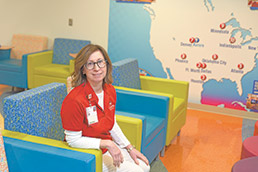 (IBJ photo/Eric Learned)
Neff, 61, is no ordinary volunteer. "She is, without a doubt, the most dedicated, tireless, humble and committed volunteer that I have ever had the honor of working with," said Jeff Sperring, who was chief medical officer and then CEO at Riley before becoming CEO at Seattle Children's Hospital in 2015. "I hope I brought a little bit of her with me here to Seattle, because I know the kids and families here will be better for it."
Kids and families in Indianapolis have benefited from Neff's commitment in ways large and small, from fundraising campaigns that have improved Riley's facilities to hands-on interaction with kids in the hospital's Child Life Zone, a therapeutic play space for all Riley patients. It's there that Neff spends every Wednesday playing with patients, lending an ear to parents, and sharing the same compassion she and her family received at Riley during Philip's illness.
It wasn't long after Philip's passing that Dr. Rebecca Wappner, who diagnosed and cared for Philip, suggested to Neff and her husband, Matt, that they organize a symposium for clinicians and families involved in diseases similar to Philip's.
They formed the Philip E. Neff Silver Lining Fund to pay for the weekend symposium, which had separate tracks for doctors and families and then brought them together to share information. Leftover funds pay for an ongoing professorship at the Indiana University School of Medicine.
Neff also volunteered at the Riley Children's Foundation, where she and her husband co-chaired the Hope Happens Here campaign. The campaign raised more than $200 million for new facilities and clinical, research and family-support programs.
While Neff's volunteer activities kept her busy, none of her involvement satisfied her desire to have a hands-on presence at the hospital.
She began to solve that problem in 2008 when she helped start Women for Riley. The group started as a giving circle and has awarded more than $600,000 in grants to Riley staff, but everyone wanted to do something hands-on, Neff said. So they worked with Riley social workers to start the Riley Cancer Center Prom in 2010. The prom gives Riley outpatients and their families a night to dance, sing and celebrate. It is preceded by "Promingdales" week, where children and families receive clothes, shoes and makeovers.
Neff wanted more hands-on volunteer opportunities for Women for Riley, so she organized and helps vet volunteers for Third Thursdays, when Women for Riley members work in the Child Life Zone and on inpatient floors at the hospital. About 40 women are cleared to volunteer, enough that a First Fridays volunteer day has been added to the schedule.
Neff continues a busy schedule at Riley and never forgets why she's there. "I have a huge wound on my heart that is scabbed over but never heals. Whenever I'm at Riley, it's because of Philip. That's my primary reason for giving back."•
Read more Health Care Heroes profiles.
Please enable JavaScript to view this content.