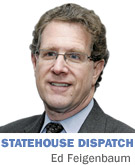 Pay attention to process as action in the General Assembly approaches the midway point of the session, where legislation approved by one chamber moves across the rotunda for consideration by the other.
Process questions are emerging that might affect the course—and ultimate fate—of key bills.
Perhaps the most important alteration, one overarching all issues, is a leadership decision to end the session a week before the formal deadline. While lawmakers originally anticipated ending their work on April 29, the new target date for adjournment "sine die" is April 21, with April 22—a Saturday—as a possible final session day.
In the Legislature, work always expands to fill available days. Deadlines—real ones imposed by rule or artificial ones set by leadership decisions—are often required to get lawmakers off the proverbial dime and force final action. The odd-year budget session, with its long timeline, is easier to compress. Leaders decided to do so in 2017, which will accelerate compromises.
This means lawmakers must likely craft a comprehensive, sustainable, long-term road and infrastructure package without knowing what the Trump administration has in mind for its extensive national version of the same—and how much federal cash might be available to defray state spending from Medicaid block grants and private-school scholarship tax credits.
An earlier deadline also reduces the time budget-bill authors have to fine-tune efforts after the April revenue forecast. This takes on additional significance given that revenue has fallen short of the April budget-year update in seven of the last nine years and the last two bienniums.
Beyond the timing issue, dissonant results from the House and Senate on legislation to make the superintendent of public instruction's position appointed, rather than elected, might also prove problematic.
A few short hours after the Senate voted 26-23 against changing the office to an appointed post, the House voted 68-29 for substantially similar legislation. Will Senate rules allow consideration of the House measure?
Because this is part of the governor's legislative agenda, House Speaker Brian Bosma, R-Indianapolis, is the author of the bill, and Senate President Pro Tem David Long, R-Fort Wayne, is the Senate sponsor, chances are this bill will be considered de novo as a House bill (and not as an attempt to resuscitate a Senate measure, as some suggest a Senate rule be interpreted), and remain alive for inclusion in another measure during conference-committee deliberations.
The budget is a possible home for the proposal, but the Senate fiscal sherpa is Appropriations Chairman Luke Kenley, R-Noblesville, and he voted against the Senate version of the superintendent bill. Then there's the long-standing Senate antipathy toward making policy via the budget bill.
Process also played a role in three other high-profile February items.
A bill authorizing a Terre Haute casino failed on a tie Senate committee vote. Arguably it is eligible to reappear, but its author administered rhetorical last rites.
A controversial abortion-restriction measure briefly moved back from the House floor to committee for further consideration, a procedural move seldom invoked. This seemed to signal leadership wasn't disposed toward a floor debate as divisive as the abortion-bill battle the final night of the 2016 session, but the lightly amended bill re-emerged from committee.
Rep. Curt Nisly, R-Goshen, also sought to offer an amendment eliminating firearms permits. Leadership denied the attempt (by the lawmaker whose bill to make all abortions illegal was pointedly denied a committee hearing), citing House rules barring amendments on a point for which a bill is pending. Nisly sought to appeal the ruling of the chair in a rare GOP intramural fight but failed to attract a second from within his caucus.
As lawmakers approach the halfway point, pay attention to process and its impact on substance.•
__________
Feigenbaum publishes Indiana Legislative Insight. He can be reached at [email protected]
Please enable JavaScript to view this content.