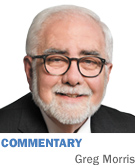 Since 2009, Evansville-based Old National Bank has been raising money for worthy causes in various markets through its 100 Men Who Cook program. Last month, we experienced our first such event here in Indianapolis.

By all accounts, Indy's inaugural event was a huge success. The $205,000 raised went to The Center for Leadership Development, an organization that builds business and leadership skills among minority youth in central Indiana by providing experiences that encourage personal development and educational attainment.

Being involved with some of the preparation for the Indianapolis event, I must give a shout-out to Old National Bank Regional CEO Mark Bradford. Besides his day job in the banking business, he's one of the most energetic event fundraisers I've come across in years. Pulling off these events in multiple markets is no small task. I know there is a great team in place that pulls these together, but when this team sleeps I do not know.

The original 100 Men Who Cook was presented by Old National Bank in Terre Haute. Since then, 45 events have raised $4.2 million for more than 30 not-for-profit organizations. Old National Bank won an American Bankers Association Foundation Community Commitment Award in 2016 for this ongoing program—one of many Old National does under its corporate social responsibility banner.

It's a fun format. At an evening event, complete with live entertainment, 100 local men volunteer to be celebrity chefs and share a small taste of their best recipe with anyone who buys a ticket. Attendees walk around the venue meeting as many chefs and trying as many samples as they like.

The celebrity chefs are from all walks of life and don their favorite chef attire for the event. In Indianapolis, the dishes included various sliders, red velvet French toast, ham and beans, sweet potato pie, chili, signature mac and cheese, lasagna, chicken and black bean tortilla soup, apple fritters, go-nuts salsa and seafood gumbo.

Ticket sales aren't the only source of income. Sponsorships, a silent auction and tips paid to the chefs all boost the fundraising effort.

The Indianapolis event was a sellout, drawing 600 patrons to the Old National Centre. The tips garnered by the local chefs ranged from a few dollars all the way up to $27,600. Who got that giant amount? Steve Dobias, principal at Somerset Health Care Team/Somerset CPAs. Steve's dish was filet crostini. Sounds tasty!

Again, the entire effort was to raise money to help the Center for Leadership Development. CLD offers transformative youth-development experiences that can change the academic, college and career trajectories of hundreds of Indianapolis youth and families. In 2016, CLD provided close to 8,000 experiential program services to about 4,000 central Indiana youth and parents.

CLD's goal is to be the country's pre-eminent center for inspiring the highest character and leadership skills, and the highest academic, college and career achievement in African-American youth.

I've been aware for years of the great work President Dennis Bland and his staff have been doing at CLD. This organization shows tangible results daily. Forty percent of CLD students live at or below the poverty line. Yet, CLD alumni are graduating from high school, enrolling in post-secondary educational institutions, persisting and graduating at a higher rate than their peers.

For more information, and perhaps to donate, visit www.cldinc.org.

This year's event is over, but be sure to look for details about next year's Indianapolis 100 Men Who Cook, presented by Old National Bank, to see how you can become involved. It's fun, and you'll be supporting a worthy cause. You can find more information and keep up with future events at www.100menwhocookindy.com.•

__________

Morris is publisher of IBJ. His column appears every other week. To comment on this column, send email to gmorris@ibj.com.