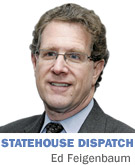 Legislative leaders have been fond of reminding Hoosiers that, "We're not like Washington," and that the neighbors they elect to serve them in Indianapolis are wont to do things that don't quite jibe with D.C. political culture—like balanced budgets, for instance.
While opportunities for meaningful political antics Back Home in Indiana are stunted by the absence of political balance in the General Assembly, our state lawmakers may appear more reasonable, rational and representative than those we send to Congress. 
Sure, there have been a few incidents this year in which solons might have crossed a line with their social media use, but the wayward trio of House members (all north of 50 years old!) received a tart tutorial from House Speaker Brian Bosma, R-Indianapolis, that began with the remonstrance, "You're not Donald Trump"—another subtle reminder the Statehouse is near the banks of the White River, not the Potomac. 
While Hoosier lawmakers have largely avoided over-the-top behavior, this session has been notable for some grass-roots tactics conforming to that characterization. What is incongruent about this, however, is that such activity has largely targeted lawmakers who would ordinarily be sympathetic to a cause, pounding away at them for not being pure enough on the given issue. 
Three examples offer a taste of the trends.
• You might recall that Democrats and Republicans seemed to enter the session with a consensus that the gas tax should be raised to help fund an unprecedented transportation infrastructure package. A quiet political truce of sorts prevented taxes from becoming a gubernatorial and legislative campaign issue, and the curtain was drawn back on this artifice shortly after the election to yawns (although feisty House Democrats jumped on the larger ongoing business tax cuts as an alternative to raising gas taxes).
But the gas tax was opposed by grass-roots efforts organized by Americans for Tax Reform and Americans for Prosperity-Indiana and joined by Indiana tea party leaders. These tactics were largely focused on fiscally conservative Republicans.
ATR's Grover Norquist refused to release lawmakers from "no-tax" pledges—some a decade or so old—and wouldn't countenance this tax hike as a "user fee." AFP-Indiana convened town halls to hold legislators accountable, and the drumbeat from mailings that began early last year started to have an effect as Hoosiers pushed back against a gas tax increase.
• That was subtle compared to what was unleashed upon pro-life Rep. Ben Smaltz, R-Auburn, when the new chairman of the House Committee on Public Policy declined to hear the "Protection at Conception Act." The bill, opposed by GOP legislative leadership, would bar all abortions—period. Hoosiers For Life urged advocates to lobby Smaltz via his personal email account and cell phone number—which they provided—and Intercessors for Life picketed his home and passed out leaflets outlining their grievances at Smaltz's church.
• Then the National Association for Gun Rights fragged their most ardent legislative supporter, Rep. Jim Lucas, R-Seymour. The offense? He—like the 98 other House members—wouldn't offer a second when a colleague sought to breach House rules to amend a bill and allow firearms carried without a permit, the subject of legislation Lucas was advancing toward a summer study. "Lucas has broken his 'No Compromise' stance on your gun rights," NAGR angrily tweeted.
Lucas defended himself in a Facebook post, analogizing NAGR to "a pack of jackals among lions. You sit back in the shadows while good people do the hard work, and then you swoop in after the hard work is done while taking credit for the kill. You are nothing more than political terrorists and have to stoop to the destructive politics of fear mongering and character assassination because you're not capable of building anything for the long haul!"
That seems an appropriate coda for how these over-the-top tactics have largely been received this session.•
__________
Feigenbaum publishes Indiana Legislative Insight. He can be reached at [email protected]
 
Please enable JavaScript to view this content.